KARATE Gloves With Thumb Protection TOKAIDO RED
Tax included
Monthly payment from 3.91€
Stock Quantity:
Available in Kaunas store (1 pcs)
Delivery terms:
Prekę pristatysime Jums per: 1-2 d.d. DPD (3.99 €)

Prekę pristatysime Jums per: 1-2 d.d. DPD Pick up (2.99 €)

NEMOKAMAI atsiimkite rytoj, parduotuvėje, Ateities pl. 23 b, Kaunas (0.00 €)
Description
Karate pirštinės su nyksčio apsauga:
Su nykščio apsauga.
Lengvos, patvarios karate pirštinės.
Pagamintos iš smūgį absorbuojančio poliuretano.
Padengtos pusiau standžios odos pakaitalo.
Puikiai tinkamos varžyboms, treniruotėms.
About Tokaido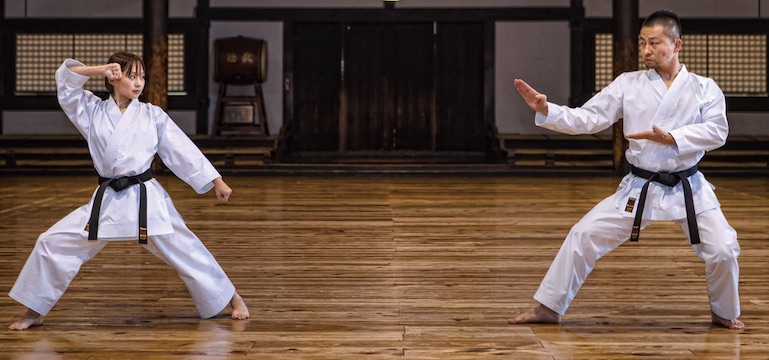 Since 1956, Tokaido has been supplying karate practitioners in Japan and all over the world with the finest uniforms, belts and other karate products. Tokaido has become the world-wide standard to which other uniforms and belts are compared.
All Tokaido uniforms and belts are cut and sewn by hand, one by one as they are ordered, by artisans whose expertise has been acquired through long years of dedication to their art. The cotton company uses comes from a centuries old process that has been used for making the best cotton textiles of Japan. This is why a Tokaido uniform, if properly cared for, will actually improve with age and can be worn for as long as 10 years. In fact, Tokaido has had many customers tell that they have used their uniform for more than 20 years!
Many people say imitation is the highest form of flattery. Tokaido was the first company in the world to manufacture uniforms exclusively for karate practice, after the art arrived from Okinawa. Many have tried to imitate Tokaido's high-quality uniforms and belts over the years, only proving what several generations of karateka have known all along: Tokaido makes the best uniforms and belts for serious karateka.
Important
CE ženklinimas yra prekės gamintojo deklaracija, kad produktas atitinka jam taikomus Europos Komisijos direktyvų reikalavimus (plačiau skaitykite čia).
Prekių nuotraukos bei video skirtos tik iliustraciniams tikslams. Originalių produktų parametrai, spalvos, užrašai, matmenys, dydžiai, funkcijos, ir/ar bet kurios kitos savybės dėl savo vizualinių ypatybių gali atrodyti kitaip negu realybėje, todėl prašome vadovautis prekių savybėmis, kurios nurodytos prekių aprašymuose. Vizualinė prekių medžiaga nenurodo prekių komplektacijos, todėl būtina vadovautis prekės aprašyme ir specifikacijose pateikta informacija.
Kilus klausimams, lauksime Jūsų skambučio telefonu +370 630 67777 arba žinutės el. paštu info@powersport.lt
SPORTING GOODS STORE IN KAUNAS

Ateities pl. 23 b, Kaunas. Open I - V:  9.00 - 18.00 
Working
I - V:  9.00 - 18.00
VI: 10.00 - 14.00
Ateities pl. 23 b, Kaunas