Board Game Piatnik Pencil Nose (Russian Language)
Tax included
Monthly payment from 4.08€
Stock Quantity:
Available in Supplier store (5+ pcs)
Delivery terms:
Prekę pristatysime Jums per: 3-7 d.d. DPD (3.99 €)

Prekę pristatysime Jums per: 3-7 d.d. DPD Pick up (2.99 €)

NEMOKAMAI atsiimkite thursday, december 14 d., parduotuvėje, Ateities pl. 23 b, Kaunas (0.00 €)
Description
VALDYBOS ŽAIDIMAS RUSŲ kalba! Užsidėk akinius ir pirmyn! Su prailginta nosimi ant skaidrios piešimo lentos reikia nupiešti kuo daugiau žodžių taip, kad kiti komandos nariai galėtų juos atpažinti ir atspėti. Ir tai reikia padaryti, kol nesibaigė laikas! Tik tada galima pelnyti taškų ir laimėti žaidimą! Greitos vakarėlio linksmybės komandoms arba pavieniams žaidėjams! Žaidimo turinys: 1 skaidri, nuvaloma piešimo lenta, 1 nuvalomas žymeklis, 1 piešimo akiniai, 1 kempinė, 55 kortelės su 12 žodžiais kiekvienoje, 1 smėlio laikrodis, 1 žaidimo instrukcija. Rekomenduojama vaikams nuo 8 metų.
About Piatnik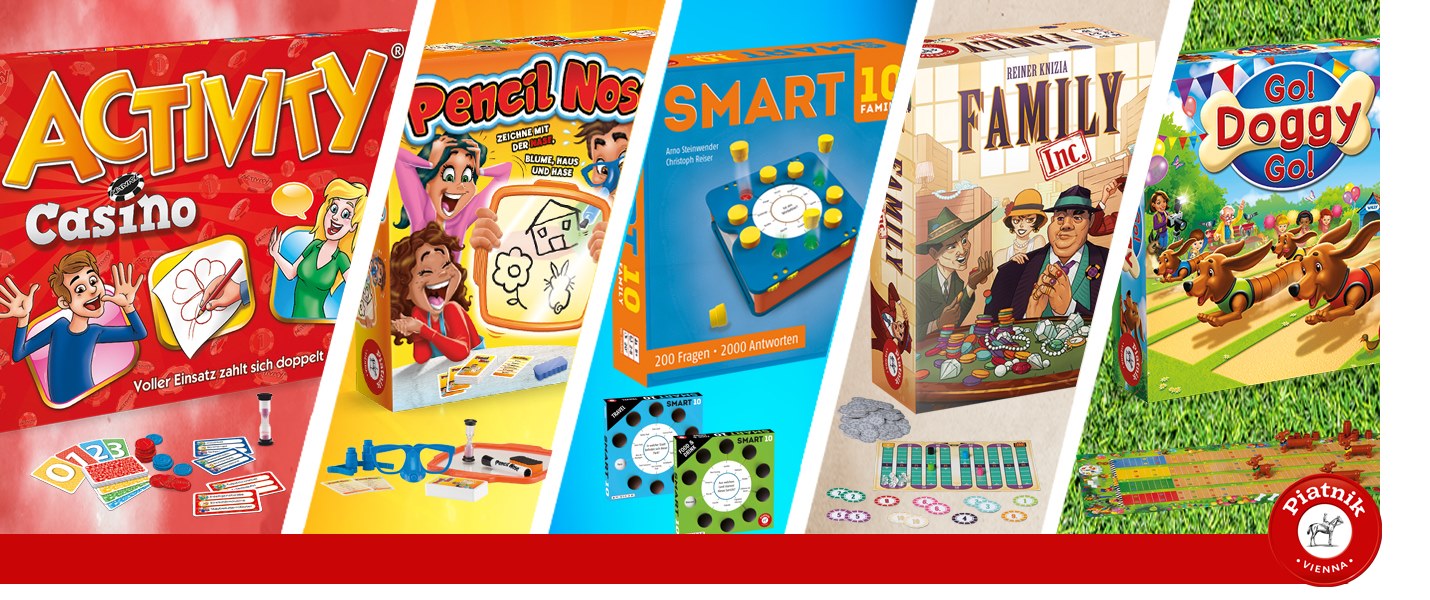 PIATNIK are a Vienna based game publisher and manufacturer of board games, playing cards and puzzles. PIATNIK team enjoys playing games but more specifically they enjoy playing games together, with each other and on a personal level. That is their strength.
Not that there's anything wrong with computer games, video game consoles or game apps, not at all. But in keeping with its Viennese heritage PIATNIK do enjoy each other's company and like to chatter. So when PIATNIK team plays games they like to interact with one another: card games, board games, party games and puzzles, games for children, games for adults or games for the whole family. That is their passion.
PIATNIK produces playing cards and board games in Vienna right in the centre of Europe and source most of its high grade raw materials from local suppliers. Its FSC – certification (Forest Stewardship Council) guarantees that PIATNIK only use wood based products from socially and environmentally sustainable foresting.
It was back in 1824 that Ferdinand Piatnik established the company and to this day the firm is successfully managed by the founder´s family descendants.
Today Piatnik is the largest Austrian game publisher operating affiliate companies in Germany, the Czech Republic, Hungary and the US. It is a leading European supplier of board games and its products are available in 72 countries.
Important
CE ženklinimas yra prekės gamintojo deklaracija, kad produktas atitinka jam taikomus Europos Komisijos direktyvų reikalavimus (plačiau skaitykite čia).
Prekių nuotraukos bei video skirtos tik iliustraciniams tikslams. Originalių produktų parametrai, spalvos, užrašai, matmenys, dydžiai, funkcijos, ir/ar bet kurios kitos savybės dėl savo vizualinių ypatybių gali atrodyti kitaip negu realybėje, todėl prašome vadovautis prekių savybėmis, kurios nurodytos prekių aprašymuose. Vizualinė prekių medžiaga nenurodo prekių komplektacijos, todėl būtina vadovautis prekės aprašyme ir specifikacijose pateikta informacija.
Kilus klausimams, lauksime Jūsų skambučio telefonu +370 630 67777 arba žinutės el. paštu info@powersport.lt
SPORTING GOODS STORE IN KAUNAS

Ateities pl. 23 b, Kaunas. Open I - V:  9.00 - 18.00 
Working
I - V:  9.00 - 18.00
VI: 10.00 - 14.00
Ateities pl. 23 b, Kaunas