Išrūgų baltymų koncentratas Healthy Choice, 1kg
Tax included
Monthly payment from 5.61€
Stock Quantity:
Available in Supplier store (5+ pcs)
Delivery terms:
Prekę pristatysime Jums per: 2-4 d.d. DPD (3.99 €)

Prekę pristatysime Jums per: 2-4 d.d. DPD Pick up (2.99 €)

NEMOKAMAI atsiimkite thursday, december 14 d., parduotuvėje, Ateities pl. 23 b, Kaunas (0.00 €)
Description
Lengvai tirpus, 100 % išrūgų baltymų koncentratas "HEALTHY CHOICE" yra aukštos kokybės, žemoje temperatūroje ultrafiltracijos būdu išgaunamas baltymas, pasižymintis nepakitusia baltymų struktūra bei išsaugota aukšta baltymų biologine verte (BV).
Prieš pradedant gaminti, tiekti ir platinti lietuvišką išrūgų baltymą atlikta labai išsami šio produkto sudėties, pakuotės ir poreikio rinkoms analizė, trukusi pusantrų metų. Bandomuosius "HEALTHY CHOICE" gaminius išbandė garsiausi Lietuvos sportininkai ir gydytojai dietologai bei pripažino natūralių baltymų naudą. Pasigilinus į esamų užsienio produktų sudėtį bei atlikus išsamius mokslinius tyrimus prieita išvados, kad daugelis proteino produktų yra nenatūralūs su įvairiais cheminių junginių pagrindu išgaunamais skoniais, pavojingais saldikliais, dažikliais ir kt.
Svarbu tai, jog mūsų produkto tirpumui pagerinti naudojame emulsiklį tik saulėgrąžų lecitiną. Daugelis gamintojų renkasi sojų lecitiną, bet pagrindinė to priežastis, nes jis yra pigesnis. Tačiau sojos yra alergenas ir daugelis žmonių yra alergiški sojoms. Be to sojų pramonėje dažnai naudojami genetiškai modifikuoti produktai bei sojų lecitino gamybai naudojami pavojingi chemikalai.
Priešingai nei sojos saulėgrąžos nėra genetiškai modifikuotos, auginamos natūraliai, o saulėgrąžų lecitino gamyba vyksta šalto spaudimo būdų atskiriant frakcijas, panašiai kaip gaminant alyvuogių aliejų ir nenaudojant jokių chemikalų.
Nuolat konsultuojamės su profesionaliais sportininkais, treneriais, gydytojais-dietologais apie "HEALTHY CHOICE" gaminius ir išgryniname pačias vertingiausias savybes.
"HEALTHY CHOICE" baltymai (proteinas) ir jų svarba žmogaus organizmui
Baltymai yra raumenų statybinė medžiaga, viena iš pagrindinių maistinių medžiagų, kaip angliavandeniai ir riebalai. Proteinas – antras pagal gausumą ir svarbą organizmo komponentas po vandens. Baltymai labai plačiai paplitę gyvojoje gamtoje ir yra jos pagrindas. Panašiai kaip "puzzle" paveikslėlį sudaro atskiros detalės, proteiną sudaro smulkios dalelės – amino rūgštys. Baltymų makro molekulės pagrindą suformuoja iš viso 20 skirtingų aminorūgščių. Devynios iš 20 amino rūgščių yra būtinos gauti su maistu, nes jų pats organizmas pasigaminti negali, todėl būtina kasdien suvartoti atitinkamą kiekį baltymų. "HEALTHY CHOICE" produktas yra vienas geriausių šakotos grandinės aminorūgščių (BCAA) šaltinių
Proteino reikšmę žmogaus organizmui sunku pervertinti. Baltymai atstato, formuoja, prižiūri ir atnaujina raumenų masę. Proteinas padeda raumenų ir jėgos augimui sportininkams. Baltymai yra svarbus normaliai kaulų būklei palaikyti. Kad žmogaus organizmas būtų sveikas, būtina gauti kasdieninę proteino dozę.
Be raumenų augimo proteinas atlieka ir kitas funkcijas:
Aprūpina organizmą baltymais, kurie yra labai svarbūs raumenų veiklai;
Stiprina raumenis ir atstato po krūvių sportuojantiems žmonėms;
Padeda sumažinti antsvorį, slopina apetitą, žmonėms, kurie stengiasi įgyti liesą raumenų audinį.
Visa tai gausite ir dar daugiau pradėję reguliariai vartoti savo mityboje lietuvišką proteiną – TIRPŲ 100 % IŠRŪGŲ BALTYMŲ KONCENTRATĄ "HEALTHY CHOICE" – įsigyk dabar!
About Healthy Choice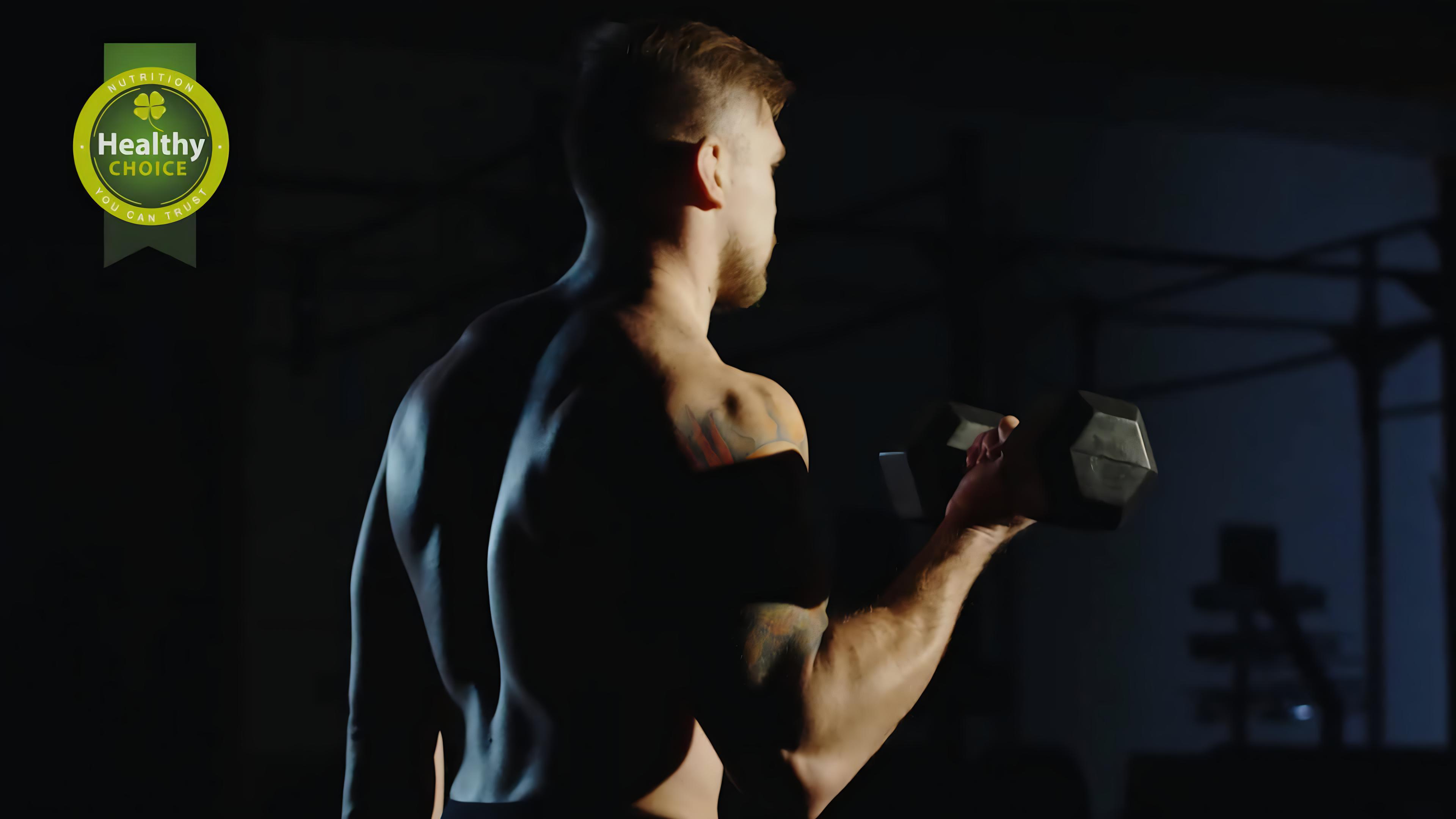 HEALTHY CHOICE 100% PURE and WATER-SOLUBLE WHEY PROTEIN are the first-ever line of Lithuanian-made protein products. Released for continuous production for the first time in Lithuania, the quality of HEALTHY CHOICE 100% PURE and WATER-SOLUBLE WHEY PROTEIN is second to none compared to equivalent products from foreign manufacturers.
Lithuania has always been known for producing high-quality and popular dairy products for large markets such as Germany, Italy, France, Switzerland and New Zealand. The emergence of this Lithuanian product was not simply the result of the untapped potential of company's national industries and also the fact that no such analogous product had been developed in the UK market or other European markets. On the other hand, a closer look at the composition of the products offered by foreign manufacturers and comprehensive scientific research revealed that most protein products offered today are not all natural and contain various artificial flavours, sweeteners, colourings and other additives.
Before the production, supply and distribution process for HEALTHY CHOICE 100% PURE and WATER-SOLUBLE WHEY PROTEIN was set into motion, the company took half a year to conduct an in-depth analysis of composition, packaging, and market demand for this product. The sample products of HEALTHY CHOICE was tried out of the most well-known athletes and dieticians and quickly recognised the benefits of natural protein. The company constantly consults with professional athletes, coaches, dietitians and doctors about the most beneficial properties of HEALTHY CHOICE protein.
Important
CE ženklinimas yra prekės gamintojo deklaracija, kad produktas atitinka jam taikomus Europos Komisijos direktyvų reikalavimus (plačiau skaitykite čia).
Prekių nuotraukos bei video skirtos tik iliustraciniams tikslams. Originalių produktų parametrai, spalvos, užrašai, matmenys, dydžiai, funkcijos, ir/ar bet kurios kitos savybės dėl savo vizualinių ypatybių gali atrodyti kitaip negu realybėje, todėl prašome vadovautis prekių savybėmis, kurios nurodytos prekių aprašymuose. Vizualinė prekių medžiaga nenurodo prekių komplektacijos, todėl būtina vadovautis prekės aprašyme ir specifikacijose pateikta informacija.
Kilus klausimams, lauksime Jūsų skambučio telefonu +370 630 67777 arba žinutės el. paštu info@powersport.lt
SPORTING GOODS STORE IN KAUNAS

Ateities pl. 23 b, Kaunas. Open I - V:  9.00 - 18.00 
Working
I - V:  9.00 - 18.00
VI: 10.00 - 14.00
Ateities pl. 23 b, Kaunas