Body Pump grifo ir svorių rinkinys HMS SBP22, 20kg
Tax included
Monthly payment from 6.63€
Stock Quantity:
Available in Supplier store (5+ pcs)
Delivery terms:
Prekę pristatysime Jums per: 3-7 d.d. DPD (9.99 €)

NEMOKAMAI atsiimkite friday, december 15 d., parduotuvėje, Ateities pl. 23 b, Kaunas (0.00 €)
Description
SBP22 HMS - štanga kūno pompos treniruokliui - idealus sprendimas grupinėms ir individualioms treniruotėms. Rinkinį sudaro štanga, 3 poros plokščių su skirtinga apkrova ir žandikaulių spaustuvai. Štangos ir lėkštės pagamintos iš aukštos kokybės ketaus, kuris užtikrina išskirtinį gaminio ilgaamžiškumą. Grifas padengtas maloniu liesti putplasčiu, todėl gerai guli rankoje, neslysta atliekant pratimus ir apsaugo nuo korozijos bei trinties. Plokštės padengtos spalvota guma, kurios kiekviena spalva atitinka skirtingą apkrovą. Jis sugeria kiekvieną smūgį - ant žemės nukritusi štanga nesugadina paviršiaus ir pati nenukenčia. Svarbu tai, kad plokštelės yra apskritimo formos su nupjautais šonais, o tai yra optimalu kūno pompos pratimams, nes, nuleidus štangą žemyn, neleidžia jai nekontroliuojamai riedėti. Pridedami spaustukai leidžia tinkamai prispausti plokšteles ir išlaikyti jas savo vietoje nepriklausomai nuo pratimo. SBP22 HMS yra optimalus sprendimas kūno pompos pratimams ir kitiems užsiėmimams su štanga. Jame galima atlikti kelių sąnarių pratimus, pavyzdžiui, pritūpimus ir prisitraukimus. Šis rinkinys pasižymi aukšta kokybe, didžiausiu patogumu ir puikia išvaizda. Specifikacija: Štangos: Medžiaga: plienas, ketus, guma Rankena: neslystančios putos Bendras ilgis: 140 cm Rankenos skersmuo: 35 mm Strypų skersmuo: 30 mm Plokštelės Medžiaga: chromuotas plienas, guma Svoris: 2 x 1,25 kg, 2 x 2,5 kg, 2 x 5 kg Matmenys: 5 kg: 25 cm x 3,2 cm 2,5 kg: 22 cm x 2,6 cm 1,25 kg: 19 cm x 2 cm Spaustuvai: žandikauliai Bendras rinkinio svoris 20 kg (+/- 500 g) Pastabos: Neskirtas komerciniam naudojimui Garantija: 24 mėnesiai
About HMS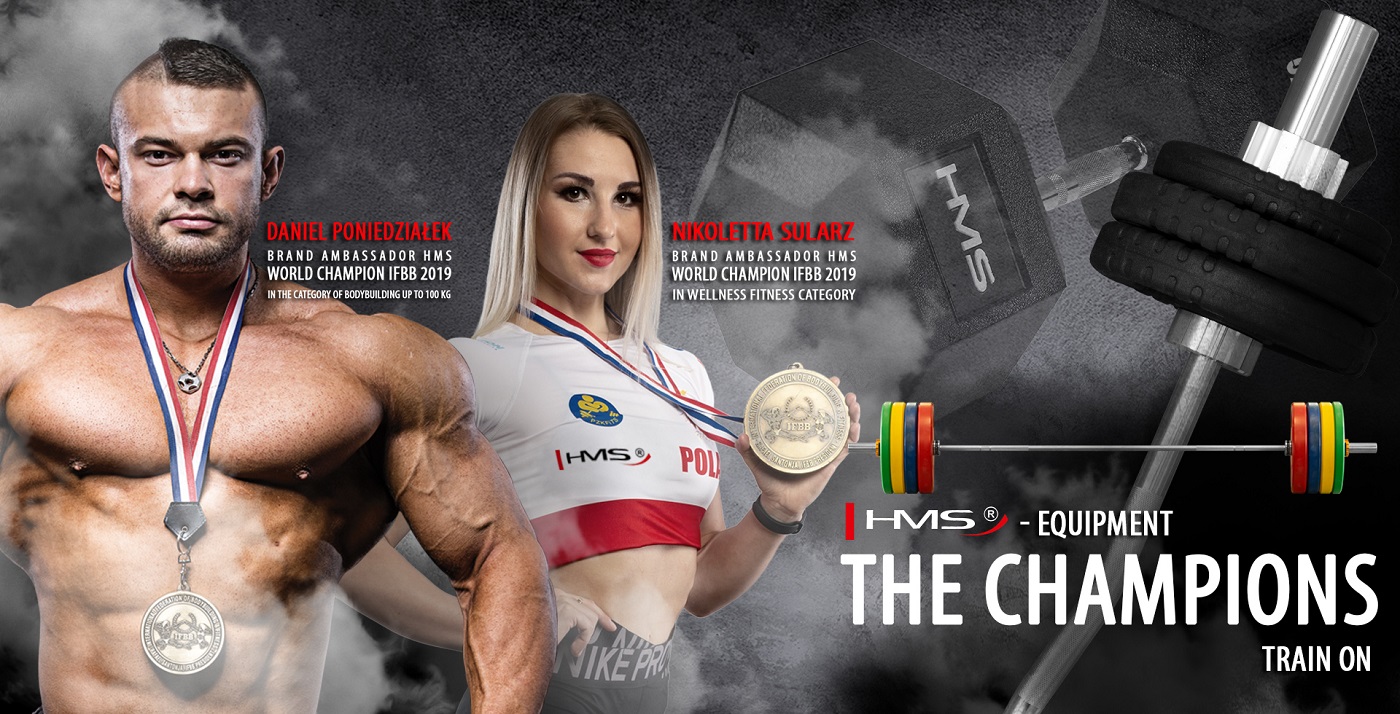 HMS brand was born from a combination of passion, friendship and fascination with the sport. From the beginning, HMS is looking for innovative solutions to facilitate and promote physical activity. Experience, highest quality of materials, the latest trends design and attention to perfect performance, are the main characteristics of brand's products.
Over the years, the brand HMS has won the recognition of many satisfied customers worldwide. HMS' offer, which includes hundreds of products from the group of fitness and strength sports is constantly enriched with new equipment. Many times brand presented it to the "ISPO" in Munich, "FIBO" in Cologne, "SPORT LIFE" in Brno, "FIWE" in Warsaw, "FIT EXPO" in Poznan. Today logo HMS is well recognized in the European market for fitness products.
Important
CE ženklinimas yra prekės gamintojo deklaracija, kad produktas atitinka jam taikomus Europos Komisijos direktyvų reikalavimus (plačiau skaitykite čia).
Prekių nuotraukos bei video skirtos tik iliustraciniams tikslams. Originalių produktų parametrai, spalvos, užrašai, matmenys, dydžiai, funkcijos, ir/ar bet kurios kitos savybės dėl savo vizualinių ypatybių gali atrodyti kitaip negu realybėje, todėl prašome vadovautis prekių savybėmis, kurios nurodytos prekių aprašymuose. Vizualinė prekių medžiaga nenurodo prekių komplektacijos, todėl būtina vadovautis prekės aprašyme ir specifikacijose pateikta informacija.
Kilus klausimams, lauksime Jūsų skambučio telefonu +370 630 67777 arba žinutės el. paštu info@powersport.lt
SPORTING GOODS STORE IN KAUNAS

Ateities pl. 23 b, Kaunas. Open I - V:  9.00 - 18.00 
Working
I - V:  9.00 - 18.00
VI: 10.00 - 14.00
Ateities pl. 23 b, Kaunas