Klasikinė medinė gitara vaikams Eco Toys, įvairiaspalvė, 6 stygos
Tax included
Monthly payment from 4.59€
Place an order within
06h 50m 50s
And we will send your order today
Stock Quantity:
Available in Kaunas store (1 pcs)
Delivery terms:
Prekę pristatysime Jums per: 1-2 d.d. DPD (6.99 €)

Prekę pristatysime Jums per: 1-2 d.d. DPD Pick up (4.90 €)

NEMOKAMAI atsiimkite šiandien, parduotuvėje, Ateities pl. 23 b, Kaunas (0.00 €)
Description
GUITARAS VAIKAMS - 6 STRINGŲ
Vaikams daugiau nei 3 metų.
Tobulina manualinius įgūdžius ir kūrybiškumą.
Suteikia gerą pramogą.
Mediena, tvirta konstrukcija
6 nailono stygų
12 grifų ant kaklo
Galima derinti.
Ekotoys prekės ženklo produktas.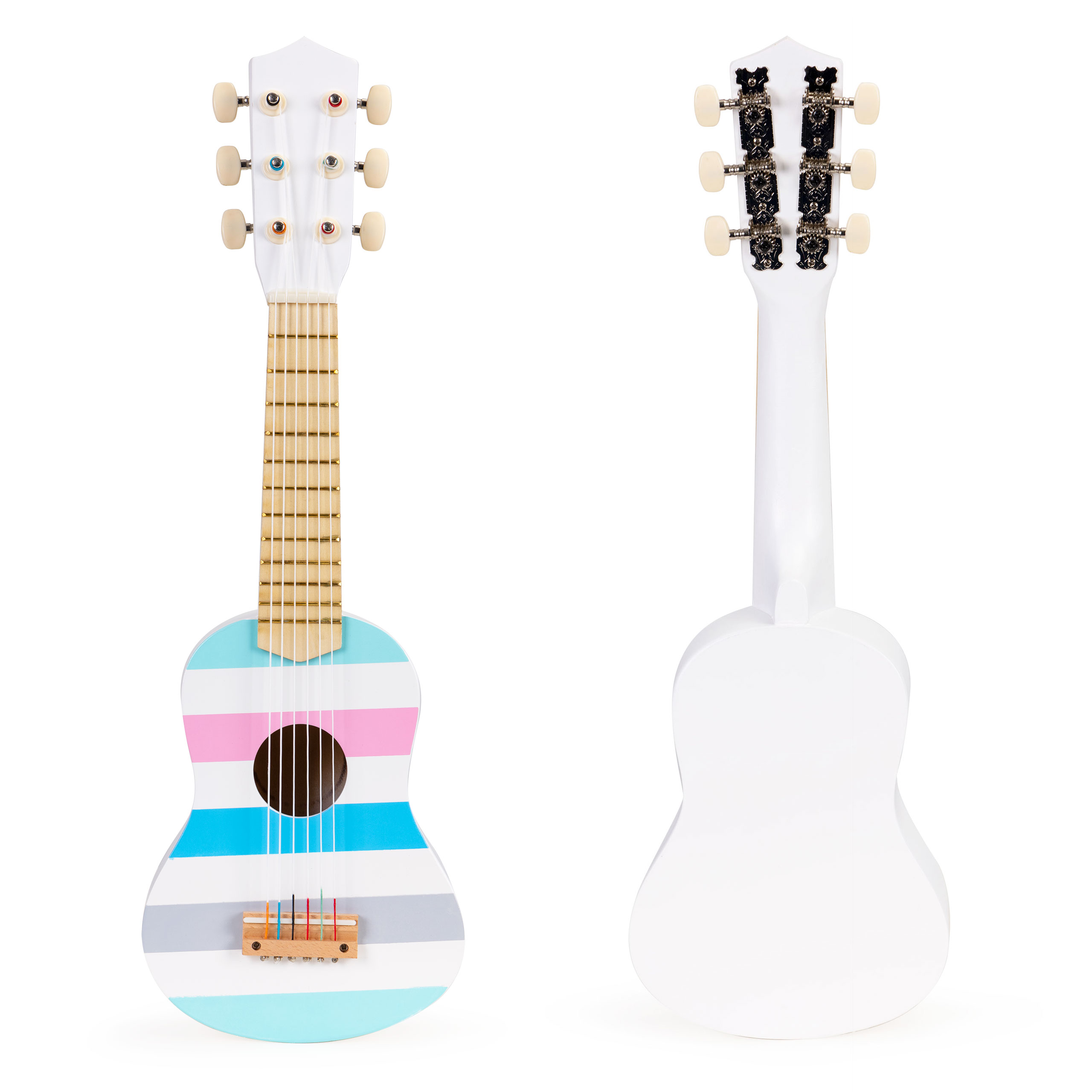 Gera pramoga visai šeimai
.
Gitarą galima derinti, todėl vaikas galės groti tiek paprastas, tiek sudėtingesnes daineles.Visa šeima gali prisijungti prie linksmybių ir sukurti grupę, kuri koncertuos namų svetainėje su vaikiškų hitų repertuaru iš "Wlazł kitek...". į "Panie Janie". Grojimas ukulele ne tik smagiai praleidžia laiką, bet ir lavina vaizduotę, lavina rankų darbo įgūdžius ir ritmo pojūtį.
Nutrūkus stygoms, gitaros konstrukcija leidžia uždėti ir ištempti naujas stygas.
.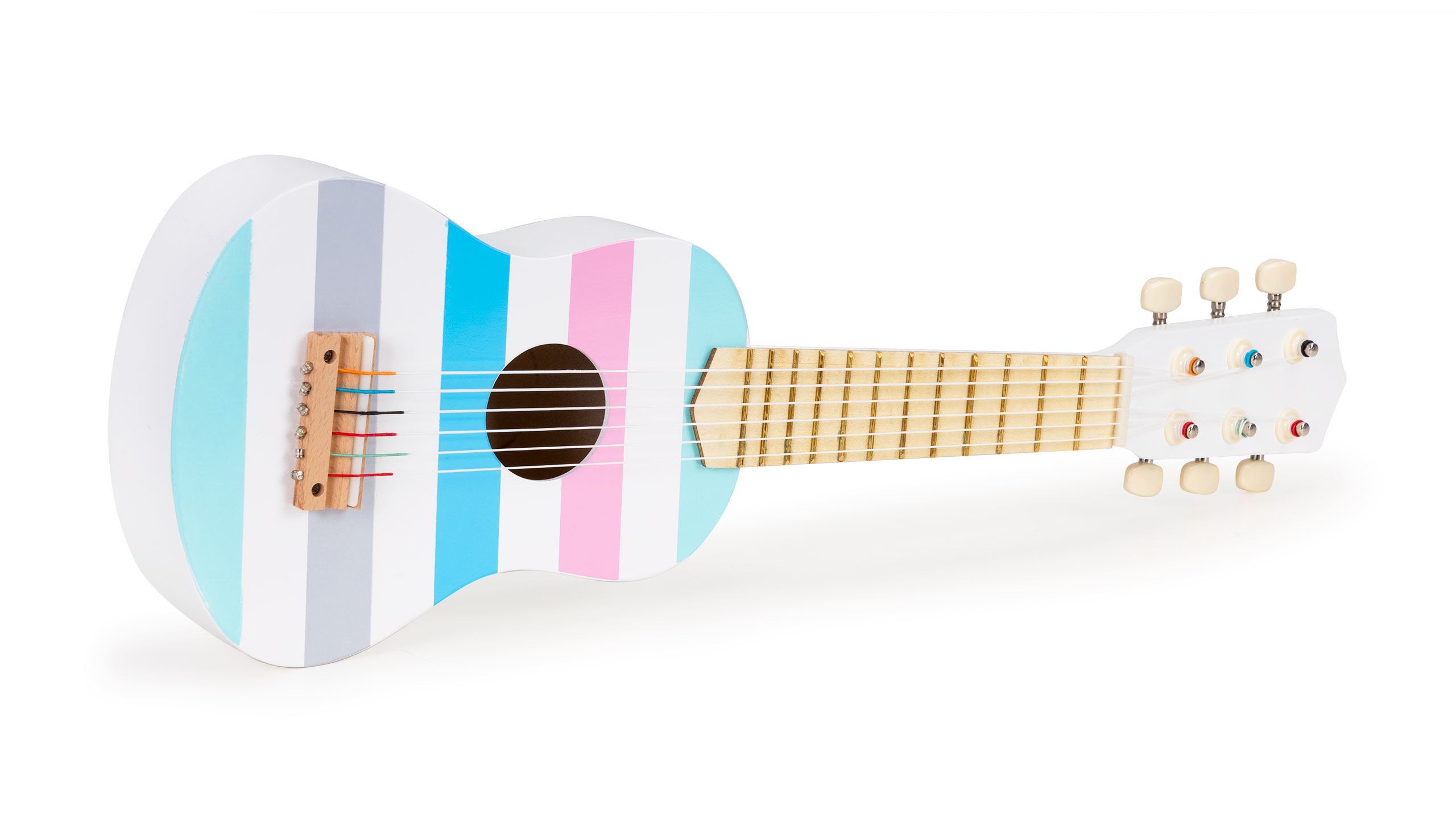 MAŽIEMS MENININKAMS
Vaikams patinka muzika, jie nuo mažens domisi garsais, dainuoja, šoka ir bando groti paprastais instrumentais. Jei jūsų vaikas su dėmesiu ir džiaugsmu stebi grojančius muzikantus arba apsimeta, kad turi įsivaizduojamą būgną ar gitarą, vadinasi, namuose gali bręsti tikras muzikinis talentas. Tokius pomėgius verta palaikyti ir ugdyti pradžiai parenkant tinkamus žaislus. ECOTOYS gitara gali tapti pirmuoju žingsniu į nuostabią aistrą.
.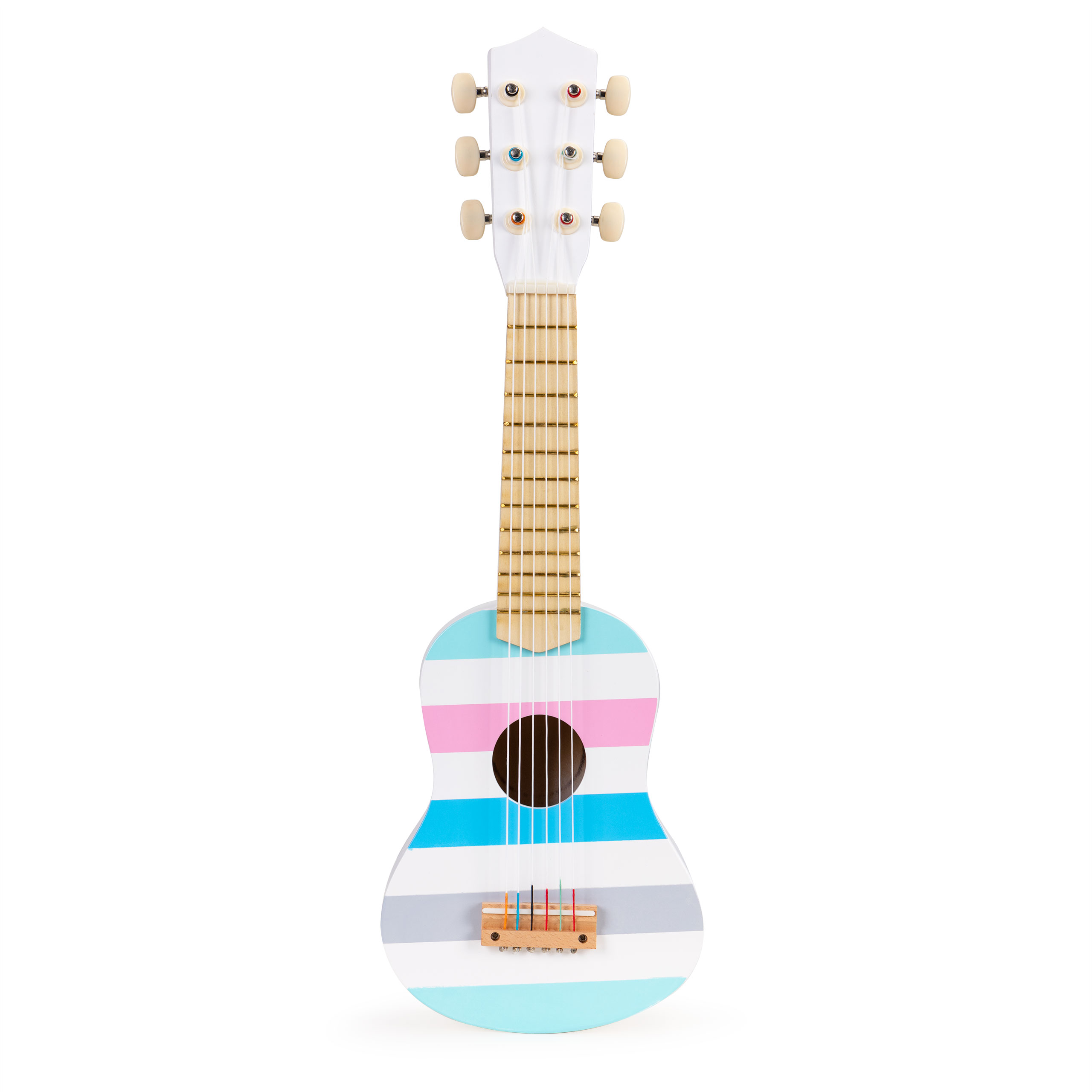 .
GITARO GRAFIKA
Gitara turi 12 metalinių grifų, todėl galite groti įvairiais garsais. Ant galvutės yra 6 klavišai, naudojami gitarai ištempti ir derinti, juos sukant styga ištempiama ir derinama.
string attachment
.
Ant korpuso yra tiltelis ir grifas, iš kurio išlenda 6 nailoninės stygos. Jeigu jie sulūžta, galite juos lengvai pakeisti, tereikia pritvirtinti prie tiltelio ir pritraukti prie klavišų.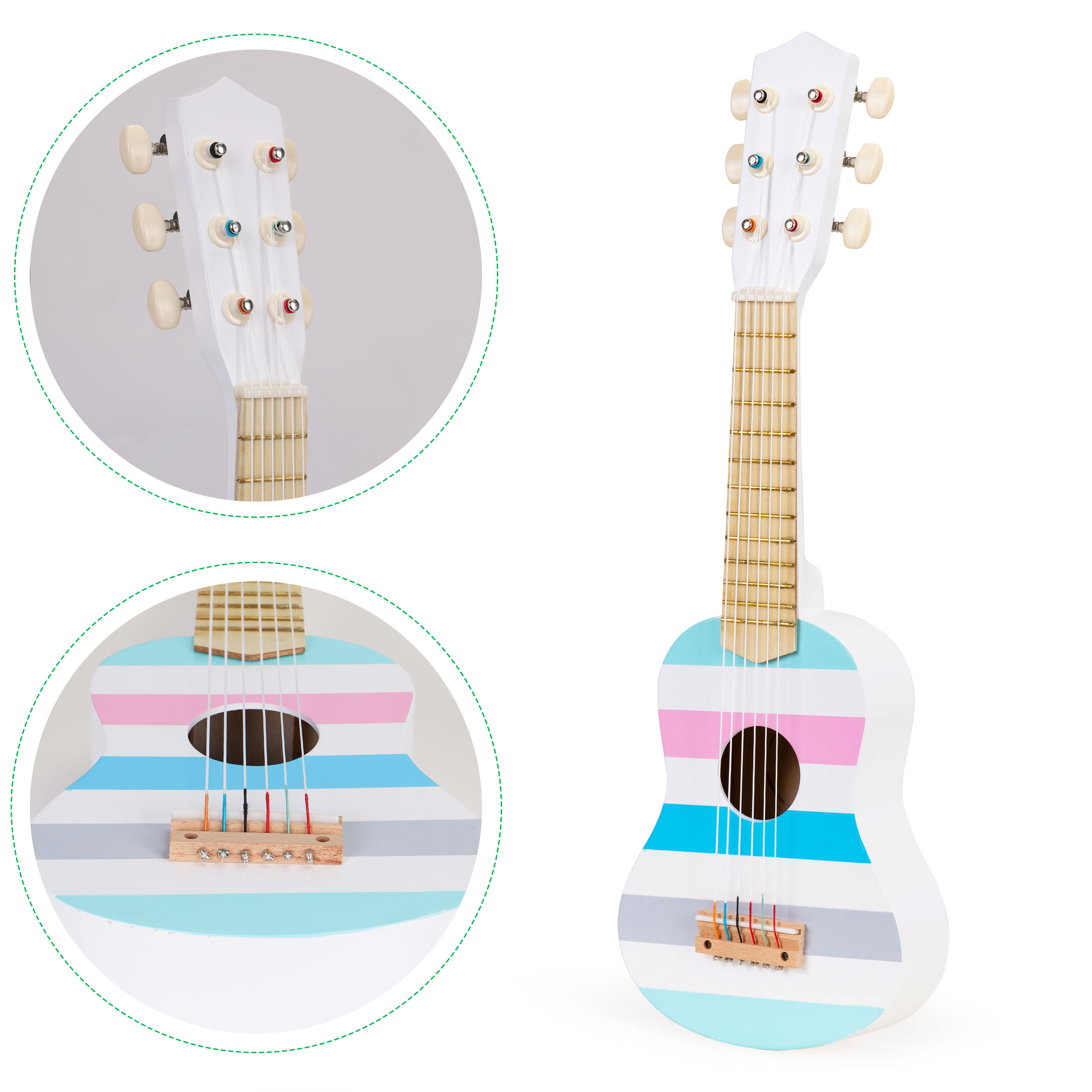 SPECIFIKACIJA
Vaiko kategorija: +3 metai.
Medžiaga: medis, plastikas, metalas
Straipsnių skaičius: 6
Matmenys: 18x5,5x54 cm
Produkto kodas: ESC-W-0164A
Produkto prekės ženklas: ECOTOYS.
.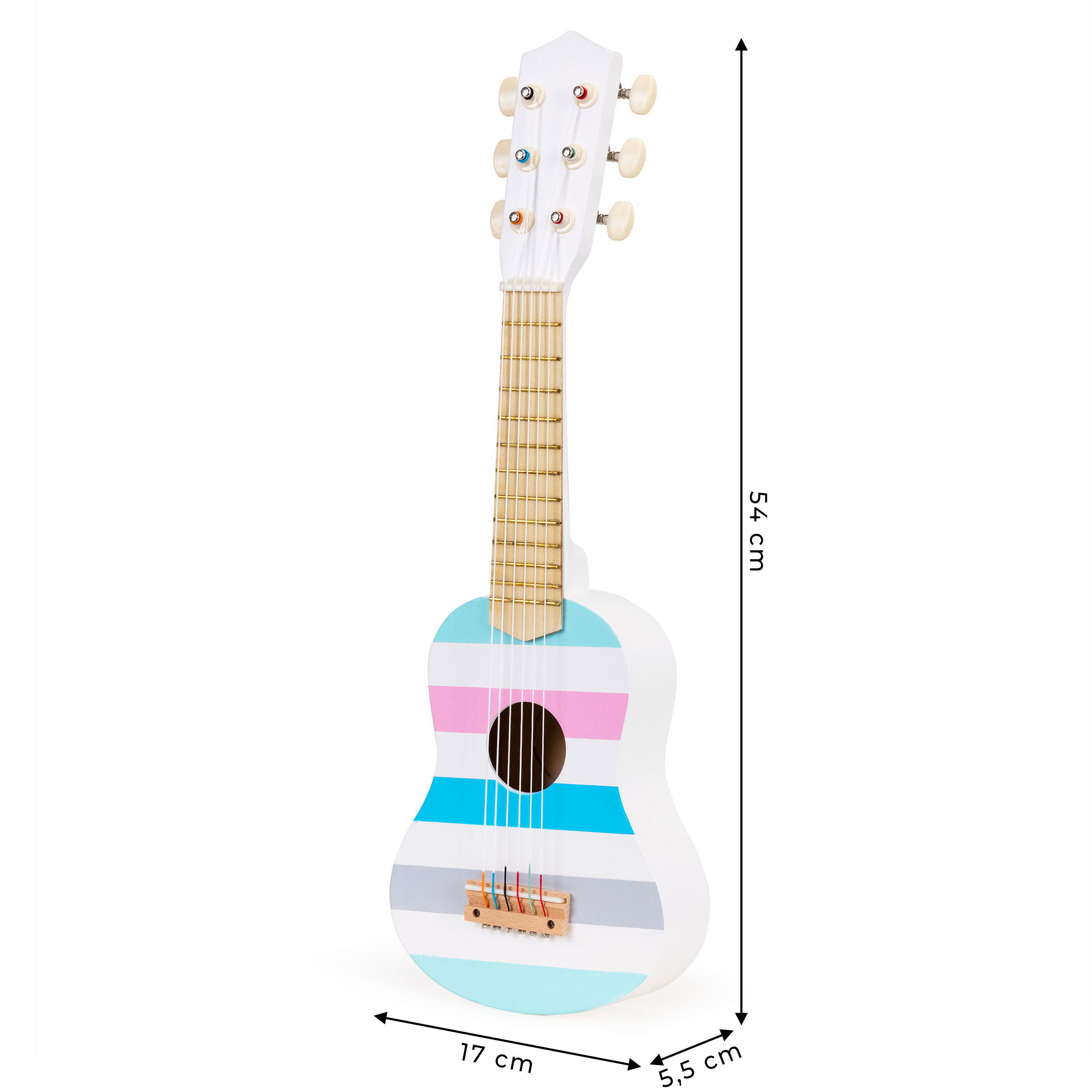 .
About Eco Toys

ECOTOYS is a Polish wooden toy brand
present on the market since the beginning of 2012.
ECOTOYS' products create a selected offer that brand addresses to customers consciously choosing high quality products. Brand makes every effort to ensure that its toys are safe and functional, and above all give children a lot of joy.
ECOTOYS combines tradition with modernity because by offering wooden toys in a modern, accessible for all children, brand do not forget about current trends and fashion.
In response to the great interest in this type of toy, ECOTOYS launches new products every year or improve existing ones based on the current needs of its clients, trying to offer a complete and polished product in every respect.
Important
CE ženklinimas yra prekės gamintojo deklaracija, kad produktas atitinka jam taikomus Europos Komisijos direktyvų reikalavimus (plačiau skaitykite čia).
Prekių nuotraukos bei video skirtos tik iliustraciniams tikslams. Originalių produktų parametrai, spalvos, užrašai, matmenys, dydžiai, funkcijos, ir/ar bet kurios kitos savybės dėl savo vizualinių ypatybių gali atrodyti kitaip negu realybėje, todėl prašome vadovautis prekių savybėmis, kurios nurodytos prekių aprašymuose. Vizualinė prekių medžiaga nenurodo prekių komplektacijos, todėl būtina vadovautis prekės aprašyme ir specifikacijose pateikta informacija.
Kilus klausimams, lauksime Jūsų skambučio telefonu +370 630 67777 arba žinutės el. paštu info@powersport.lt
SPORTING GOODS STORE IN KAUNAS

Ateities pl. 23 b, Kaunas. Open I - V:  9.00 - 18.00 
Working
I - V:  9.00 - 18.00
VI: 10.00 - 14.00
Ateities pl. 23 b, Kaunas