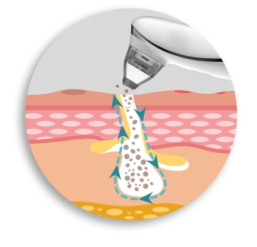 Pavargote nuo nuolatinio juodų taškelių, kurie atsiranda vis iš naujo, išspaudimo? Pašalinkite juos su mūsų vakuuminiu porų valytuvu "Suckage"! "inSPORTline Suckage" vakuuminis porų valytuvas yra patogus kompaktiškas pagalbininkas kovoje su juodaisiais taškeliais, poromis ir spuogais. Atsisveikinkite su visais odos trūkumams šalinti skirtais kremais ir kaukėmis, kurie labai dažnai būna be matomų rezultatų. Jums tereikia įsigyti vienintelį prietaisą, kuris taps nepakeičiamu jūsų palydovu. Vakuuminis prietaisas, prisilietęs prie odos, sukuria vakuumą ir įsiurbimo pagalba gali pašalinti odos nešvarumus ir riebalų perteklių.

Vakuuminis prietaisas taip pat gali pašalinti negyvas ląsteles ir atkurti odos stiprumą bei elastingumą . Reguliariai naudodami pasieksite ne tik švarią odą, bet ir pagerinsite kraujotaką bei stimuliuosite kolageno ir elastino gamybą , todėl sulėtinsite ląstelių senėjimą. Dėl trijų pakopų intensyvumo nustatymo jis tinka visiems odos tipams. Be to, paprastą valdymą vienu mygtuku gali atlikti kiekvienas!

Panaudojimas
< Kruopščiai nuvalykite odą su mūsų pagalbininkais - "Reggi Reggi" makiažo rankšluosčiu ir "Reggi" miceliniu valomuoju vandeniu 3in1 . Po valymo odą reikia pašildyti, kad atsivertų poros ir prietaisu būtų lengviau pašalinti nešvarumus. Sušildyti veidą galite keletu būdų:
.
naudodami inSPORTline Cison veido sauną
per šiltą vonią
įkaitinus makiažo suvilgomąją servetėlę inSPORTline Reggi karštame vandenyje ir uždėjus ją ant veido (palikite, kol atvės, ir visą procesą pakartokite du kartus).
virš puodo / dubens su verdančiu vandeniu ir rankšluosčiu, užtemptu ant galvos (veidą laikykite maždaug 15 cm virš vandens, garinkite 5-10 minučių).
Atsisukite galvą į prietaisą pagal savo poreikius. Norėdami įjungti prietaisą, palaikykite nuspaudę mygtuką 2 sekundes. Mažiausias intensyvumas nustatomas automatiškai. Pakartotinai spausdami šį mygtuką galite reguliuoti prietaiso siurbimo intensyvumą. Rekomenduojame pradėti nuo mažiausio intensyvumo, kad išvengtumėte odos sudirginimo. Judinkite prietaiso galvutę tose vietose, kur susidaro daugiausia riebalų - smakre, smakre, kaktoje ar kitose probleminėse vietose.

Nepastatykite galvutės statmenai odai, bet 65° kampu ir lengvai spauskite prietaisą. Neleiskite prietaisui intensyviai siurbti per odą ir nenaudokite vienoje vietoje ilgiau nei tris sekundes, tai gali sukelti odos paraudimą! Minėtu kampu ir šiek tiek spausdami įdėkite prietaisą į minėtas vietas ir judinkite prietaisą į šonus ir šiek tiek į viršų, kad taip pat būtų šiek tiek pakelta oda. Galite padėti prilaikydami ir įtempdami odą kita ranka. Po odos valymo prietaisu nuvalykite odą nuo likusių nešvarumų Reggi makiažo rankšluosčiu. Tuomet veidą patepkite švelniu inSPORTline drėkinamuoju kremu, inSPORTline ultra drėkinamuoju kremu, inSPORTline revitalizuojančiu liftingo kremu arba inSPORTline intensyviai drėkinamuoju serumu. Po naudojimo nuvalykite prietaiso priedus kosmetine šluoste arba po tekančiu vandeniu.

Įdėklai
maža apvali galvutė - jautriai odai, mažiau prieinamose vietose
vidutinė apvali galvutė - pašalina riebalų maišelius ir juodus spuogus
didelė apvali galvutė - didesnėms probleminėms veido sritims ir veido odos pakėlimui.
maža ovali galvutė - minkština odą ir intensyviai šalina nešvarumus mažiau prieinamose vietose.
mikrokristalinė galvutė - pašalina negyvą odos audinį (sukietėjusią odą), nenaudokite ant veido.