Riedučiai-pačiūžos Nils Extreme NH18366 A 2in1, dydis L(39-42), rožiniai
Tax included
Monthly payment from 6.46€
Stock Quantity:
Available in Supplier store (5+ pcs)
Delivery terms:
Prekę pristatysime Jums per: 2-4 d.d. DPD (4.99 €)

NEMOKAMAI atsiimkite thursday, december 14 d., parduotuvėje, Ateities pl. 23 b, Kaunas (0.00 €)
Description
NH18366 "Nils Extreme" - tai aistringiems riedlentininkams skirtos pačiūžos. Gaminį galima konfigūruoti 2 būdais. Tai yra: riedučiai, riedučiai. Kodėl turėtumėte rinktis NH18366 Nils Extreme modelį? Nes tai leidžia visapusiškai mėgautis tiek ledo ritulio, tiek riedučių privalumais. NH18366 "Nils Extreme" pačiūžos pasižymi labai geromis valdymo savybėmis. Taip yra dėl aukštos kokybės nerūdijančio plieno pačiūžų ir daugiafunkcinės tvirtinimo sistemos, sudarytos iš "Velcro" dirželio, sagties ir raištelių, kuri patikimai fiksuoja jūsų kojas. Dėl viso to šis modelis puikiai veikia bet kokiomis sąlygomis ir suteikia unikalią treniruočių patirtį. Šios patogios ledo ritulio pačiūžos skirtos pradedantiesiems ir vidutinio amžiaus vartotojams. Aukšta jų kokybė užtikrina ilgaamžiškumą ir atsparumą mechaniniams pažeidimams. NH18366 pačiūžos - tai grynas važiavimo malonumas. Čiuožynė turi specialią aliumininę slidę ir stabdį, kuris užtikrina saugumą važiuojant. Ratai ir ABEC7 guoliai pasižymi mažesniu pasipriešinimu riedėjimui, todėl važiuojama greičiau. NH18366 "Nils Extreme" modelyje taip pat įrengtas trijų pakopų batų dydžio reguliavimas, todėl jį galite pritaikyti pagal savo poreikius. Taip sutaupysite laiko ir pinigų. Šis sprendimas pailgina batų tarnavimo laiką ir leidžia jais naudotis daugiau nei vienam asmeniui. Specifikacija: Batai: pusiau minkšti Vidpadis: kvėpuojanti membrana, EVA medžiaga, 8 mm didelio tankio putos Vidinis bagažinės ilgis (mm): 245-270 Užsegimas: dviejų pozicijų sagtis, "Velcro" dirželis, raišteliai Slidžių ašmenys: aukštos kokybės nerūdijantis plienas Čiuožyklos ašmenys: aliuminis Ratai: PU 64 mm/82A (S) PU 70 mm/82A (M) PU 72 mm/82A (L) Guoliai: ABEC 7 Mygtukas dydžiui reguliuoti Pastabos: Neskirtas komerciniam naudojimui Atitinka PN-EN 13843:2009 standartą Garantija: 24 mėnesiai
About Nils Extreme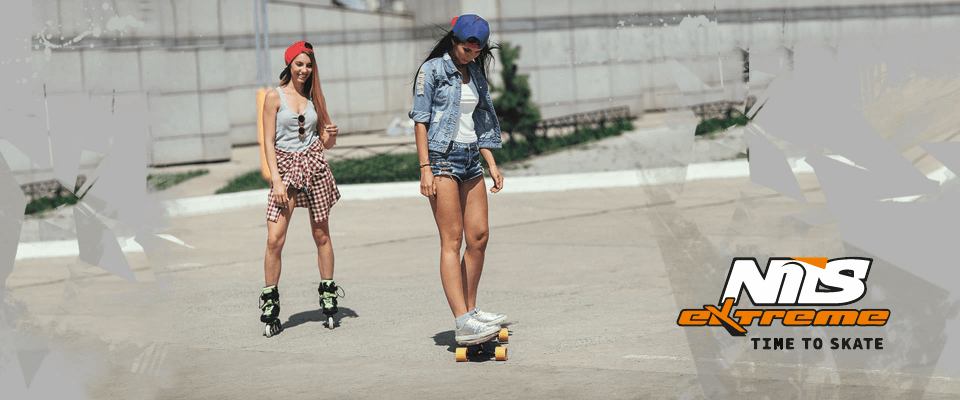 NilsExtreme stands for nearly twenty years of experience in the construction of skateboards, rollerblades, and scooters – we know well how to ensure high quality of our products and combine it with the functionality sought by our clients. Our products are exported to such countries as Germany, Russia, Czech Republic, Lithuania, Latvia, and Belgium. Nils Extreme means rollerblades, skateboards, and scooters for active people of all ages. Our offer includes rollerblades for children, which come with the size adjustment function so that they grow together with the child for at least several years. For teenagers, we offer rollerblades with increased durability and excellent skating properties thanks to ABEC-9 bearings. Adults looking for recreational rollerblades will find models of rigid and lightweight aluminum build and a wide range of wheel hardness. For advanced users, we offer specialist inline skates for fast skating, freestyle or aggressive skating, with parametres adjusted to a given style.
Important
CE ženklinimas yra prekės gamintojo deklaracija, kad produktas atitinka jam taikomus Europos Komisijos direktyvų reikalavimus (plačiau skaitykite čia).
Prekių nuotraukos bei video skirtos tik iliustraciniams tikslams. Originalių produktų parametrai, spalvos, užrašai, matmenys, dydžiai, funkcijos, ir/ar bet kurios kitos savybės dėl savo vizualinių ypatybių gali atrodyti kitaip negu realybėje, todėl prašome vadovautis prekių savybėmis, kurios nurodytos prekių aprašymuose. Vizualinė prekių medžiaga nenurodo prekių komplektacijos, todėl būtina vadovautis prekės aprašyme ir specifikacijose pateikta informacija.
Kilus klausimams, lauksime Jūsų skambučio telefonu +370 630 67777 arba žinutės el. paštu info@powersport.lt
SPORTING GOODS STORE IN KAUNAS

Ateities pl. 23 b, Kaunas. Open I - V:  9.00 - 18.00 
Working
I - V:  9.00 - 18.00
VI: 10.00 - 14.00
Ateities pl. 23 b, Kaunas