Ar ieškote būdo, kaip tikrai atpalaiduoti kūną po sunkios darbo dienos ar įtemptų treniruočių? Su inSPORTline Numana masažine kėde, atpalaiduosite savo kūną ir protą, kad galiausiai pasijustumėte atgimę! Turėdami 8 iš anksto nustatytas programas ir 5 masažo greičius, lengvai rasite režimą kiekvienai progai. Bet jei vis dėlto norite kažko ypatingo, galite nustatyti ir išsaugoti 2 savo programas . Dar viena puiki funkcija - oro jonizatorius, kuris masažo metu gaivina aplinkinį orą!"

Kad masažas būtų dar geresnis, turite 3 lygių nugaros šildymą , sudėtingą 135 cm ilgio masažo zonos išdėstymą ir reguliuojamą kojų atramą. Be klasikinio valdiklio, masažą galite reguliuoti balsu - pagal angliškų frazių sąrašą, kurį rasite instrukcijoje, galėsite nustatyti masažo parametrus net užmerktomis akimis! Pridėkite "Bluetooth" garsiakalbius, kuriuos galima susieti su mobiliuoju telefonu ar planšetiniu kompiuteriu, ir įkrovimo USB jungtį , ir gausite tobulą rinkinį absoliučiam atsipalaidavimui.

Jonizacija ore
<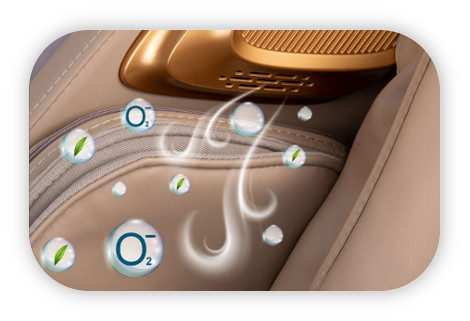 Oro jonizatorius generuoja neigiamus jonus , kurie valo orą, pašalindami kenksmingas medžiagas ir mikrodaleles. Dėl to masažo metu geriau kvėpuosite, be to, naujai išvalytas oras jus maloniai atgaivins!

Nulinė erdvė & amp; gravitacija
<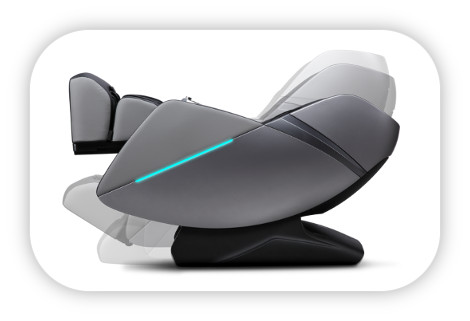 Pagal "Zero Space" programą nereikia galvoti, kiek masažo metu kėdė pasvyra atgal - ji nepasvyra, ji tiesiog pasislenka į priekį, ir jums nereikia sudėtingai ja manipuliuoti. Tiesiog pastatykite kėdę bent 5 cm atstumu nuo sienos ir viskas!
Atlikę Nulinės gravitacijos funkciją, vienu mygtuku galite persijungti į vadinamąją " besvorio " padėtį, kurioje jūsų svoris paskirstomas taip, kad stuburą kuo labiau atlaisvintų nuo gravitacijos poveikio. Tai sumažins spaudimą širdžiai, išplės plaučių talpą ir palaikys kojų kraujotaką.

Malonus nugaros šildymas
<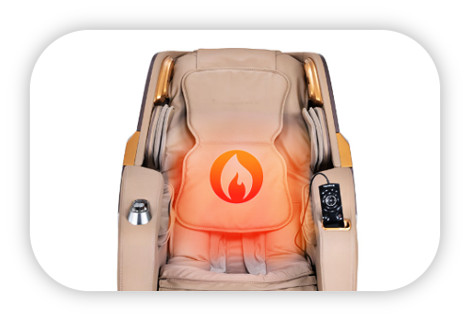 Nugarą šildo ilgųjų bangų infraraudonieji spinduliai , kurie prasiskverbia giliai į raumenis. Maksimali nugaros atlošo temperatūra siekia 40-50 °C , kuri yra optimali norint puikiai sušilti ir sumažinti skausmą. Sušildytas masažas yra veiksmingesnis ir malonesnis, be to, jį galima naudoti norint greitai atstatyti šilumą peršalus!

Gaivinantis oro masažas
<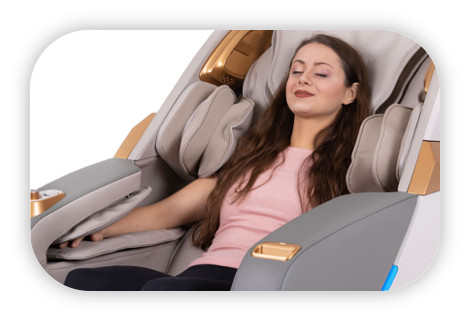 40 oro pagalvėlių rinkinys rankų, klubų ir kojų srityje puikiai prisitaiko prie jūsų kūno formų ir atlieka kruopštų masažą, kuris gražiai atpalaiduos ir išjudins net po sunkios dienos. Šis subalansuotas spaudimo masažas atpalaiduoja ir atgaivina raumenis, o pabaigoje tikrai pasijusite atgimę!

Garsinis valdymas
<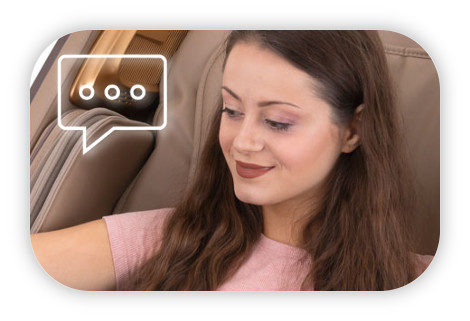 Išskirtinė šios kėdės funkcija yra ta, kad ją galite valdyti ir balsu ! Jei nenorite griebtis nuotolinio valdymo pultelio, tiesiog paspauskite mikrofono mygtuką ir pradėkite "Labas, Alisa" . Tada kėdė atsakys į iš anksto nustatytas frazes (jas rasite naudotojo vadove). Gudrybė ta, kad jos yra anglų kalba, tačiau, kita vertus, galite lavinti savo kalbos įgūdžius.

"Bluetooth" garsiakalbiai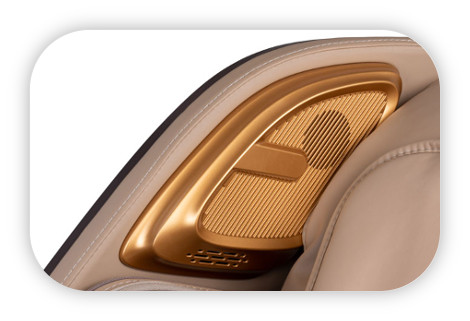 Muzikos klausymasis - tai dar vienas interaktyvus terapijos būdas, kurio dėka įgausite vidinę ramybę ir gerą savijautą. Muzikos ir masažo derinys įkraus jus naujos, teigiamos energijos antplūdžiu. Galite prisijungti kėdę prie mobiliojo telefono ar kito išmaniojo įrenginio ir įsijungti mėgstamą muziką.
Programos ir funkcijos:
5 tipų masažas naudojant masažo galvutes (minkymas, stuksenimas, vienalaikis minkymas ir stuksenimas, Shiatsu masažas)
8 iš anksto nustatytos programos (greitas viso kūno masažas, patogus viso kūno masažas, atpalaiduojantis viso kūno masažas, juosmens, nugaros ir kojų tempimas, gilus viso kūno masažas, sveikatinamasis masažas kūnui atpalaiduoti, kaklo ir pečių masažas, nugaros ir juosmens masažas)
5 rankinės programos (koncentruota, vietinė, visos nugaros srities, viršutinės nugaros dalies, juosmens srities)
2 oro masažo režimai (viršutinių galūnių oro masažas, apatinių galūnių oro masažas)
anglies pluošto nugaros šildymas (40 °C-50 °C)
3 masažo intensyvumo reguliavimo lygiai (oro)
5 masažo greičio nustatymo lygiai (tik pagrindinis)
Pause funkcija - sustabdo atliekamą masažą ir leidžia atsitraukti nuo kėdės
Nulinės gravitacijos funkcija
Nulinės erdvės funkcija
jonizacija - jonizacijos įrenginys, kuris generuoja neigiamai įkrautus jonus, iš oro pašalinančius kenksmingas daleles; tuomet oras, kuriuo kvėpuojate, yra švaresnis ir pastebimai gaivesnis.
atmintis 2 pasirinktiniams masažo režimams
automatinis sėdynės aptikimas
<