Atraskite naujas ramybės ir tylos dimensijas su inSPORTline Cortela masažine kėde! Be visiškai atpalaiduojančio viso kūno masažo, taip pat galėsite mėgautis raminančia aromaterapija , gražinančia šviesos terapija ir magnetiniu pėdų masažu! Dėl automatinio kūno padėties nustatymo kėdė prisitaiko prie kiekvienos kūno dalies ir taip visiškai įjungia garbingą masažo galvučių ir oro pagalvių rinkinį. Be 6 iš anksto nustatytų programų, taip pat turite 6 masažo rūšių rankiniu režimu, įskaitant 3D masažą , kai masažo voleliai giliau įsiskverbia į raumenis.

Su 5 greičio ir intensyvumo nustatymų lygiais , neabejotinai rasite idealų derinį už siūlomų programų ribų. Tada tiesiog išsaugokite jį kaip vieną iš 3 pasirenkamųjų režimų . Taip pat galite įtraukti nugaros ir blauzdų apšilimą, kad geriau atsipalaiduotų raumenys. Be to, masažuojant kojas galima reguliuoti atlošą 22 cm diapazone, todėl net aukšti žmonės kėdėje nesijaus ankštai.

Be to, itin naudinga Zero Space funkcija užtikrina, kad jums visai nereikės manipuliuoti kėde. Sureguliavus į horizontalią padėtį, ji tiesiog "nuslenka" į priekį ir nebereikia spręsti, ar ją atitraukti nuo sienos - pakanka 5 cm! Absoliučiam kūno atpalaidavimui taip pat yra populiarioji Nulinės gravitacijos funkcija. O jei masažo metu mėgstate klausytis mėgstamos muzikos, tiesiog prijunkite įmontuotus garsiakalbius prie savo mobiliojo telefono ir viskas! Su masažo, šildymo, aromaterapijos ir mėlynosios šviesos funkcijomis galite mėgautis tokia pat prabanga kaip profesionaliame salone!

Šviesos terapija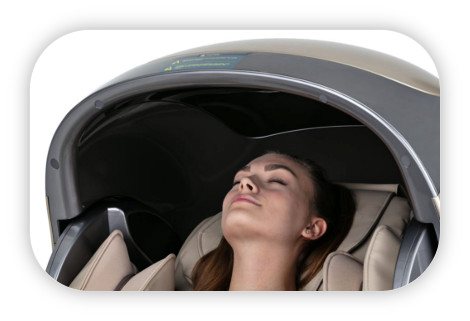 Dėka unikalaus atlenkiamo stogo, iškloto LED diodais, galite savo namų jaukumą papildyti šviesos terapija! Mėlyna šviesa, sklindanti nuo stogelio, ramina jūsų odą ir kartu rūpinasi pašalinti bakterijas bei slopina uždegimą . Jis dažniausiai naudojamas esant aknės problemoms arba norint nuraminti odą po pernelyg gausių saulės vonių.

Aromaterapija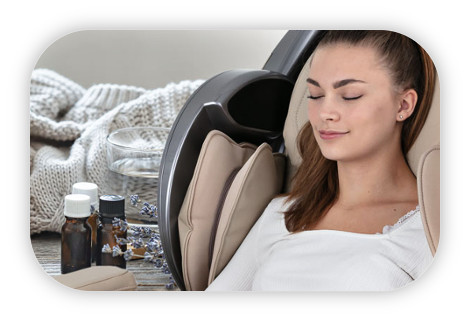 Be to, jūsų laukia aromaterapija po kupolu! Kėdėje yra speciali kasetė su maistiniu aliejumi , kurios dėka iš karto pakilsite į kitas sferas! Dėl užapvalintos stogelio formos kvapas jus visiškai apsups ir galėsite visiškai pasinerti į ramią ir atpalaiduojančią atmosferą.

Nulinė erdvė ir gravitacija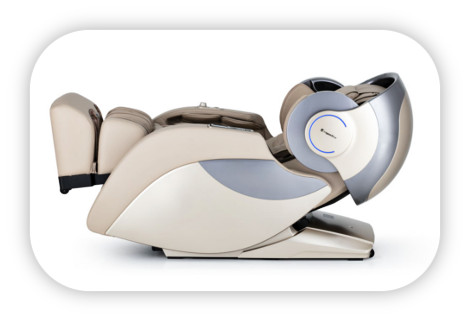 Pagal "Zero Space" programą nereikia galvoti, kiek masažo metu kėdė pasvyra atgal - ji nepasvyra, ji tiesiog pasislenka į priekį, ir jums nereikia sudėtingai ja manipuliuoti. Tiesiog pastatykite kėdę bent 5 cm atstumu nuo sienos ir viskas!
Atlikę Nulinės gravitacijos funkciją, vienu mygtuku galite persijungti į vadinamąją " besvorio " padėtį, kurioje jūsų svoris paskirstomas taip, kad stuburą kuo labiau atlaisvintų nuo gravitacijos poveikio. Tai sumažins širdžiai daromą spaudimą, išplės plaučių talpą ir palaikys kojų kraujotaką.

Magnetinis masažas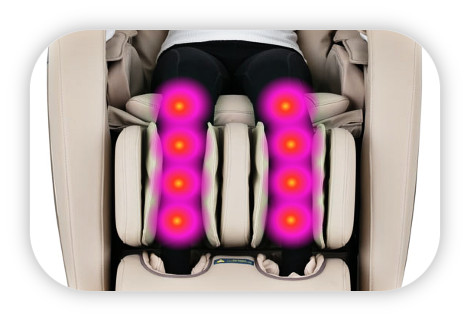 Tam, kad būtų galima atlikti magnetinį masažą , kėdėje yra iš viso 8 nuolatiniai magnetai blauzdų srityje, kurie stimuliuodami refleksinius taškus aprūpina kūną trūkstama energija. Kiekvienas jų sukuria maždaug 800 gausų magnetinį lauką.

Nugaros ir kojų šildymas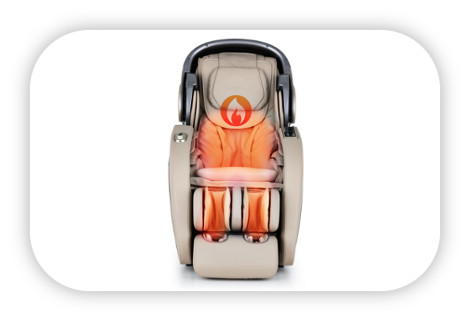 Šildymas vyksta ilgųjų bangų infraraudonųjų spindulių pagrindu, kurio šaltinis yra anglies pluoštas. Nugaros atlošas ir blauzdų sritis įkaitinami iki 40 °C - 50 °C , t. y. optimalios temperatūros, kad visiškai sušiltų raumenys ir kartu sumažėtų skausmas. Tuomet masažas yra veiksmingesnis ir malonesnis, be to, šildymą galima naudoti norint greitai atkurti šilumą peršalus.

3D "Bluetooth" garsiakalbiai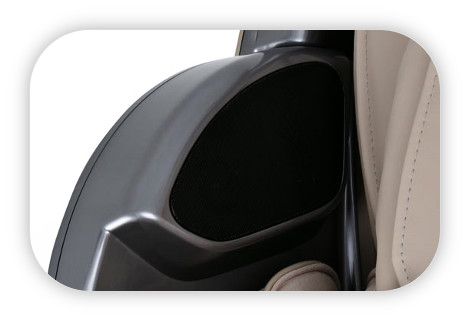 Muzikos klausymasis - tai dar vienas interaktyvus terapijos būdas, kurio dėka įgausite vidinę ramybę ir gerą savijautą. Muzikos ir masažo derinys įkraus jus naujos, teigiamos energijos antplūdžiu. Galite prisijungti kėdę prie mobiliojo telefono ar kito išmaniojo įrenginio ir įsijungti mėgstamą muziką. Be to, turite įkraunamą USB lizdą, todėl telefonui niekada nepritrūks energijos.
Programos ir funkcijos:
3D masažas (masažo galvučių judėjimas aukštyn, žemyn, pirmyn ir atgal)
6 tipų masažai (minkymas, tapšnojimas, minkymas ir tapšnojimas vienu metu, shiatsu masažas, pečių masažas, 3D masažas)
6 iš anksto nustatytos masažo programos (visapusiškas viso kūno masažas, sėdmenų ir klubų masažas, miego palaikymo masažas, kaklo ir pečių masažas, nugaros ir juosmens masažas, atpalaiduojamasis viso kūno masažas)
5 rankinio masažo programos (koncentruotas, vietinis, visos nugaros srities, viršutinės nugaros dalies, juosmens srities)
garbos ir blauzdų šildymas anglies pluoštu (40 °C - 50 °C)
šviesos terapija (mėlyna šviesa)
magnetinis pėdų masažas
5 lygių masažo greičio reguliavimas
5 masažo intensyvumo lygių nustatymas
Pause funkcija - sustabdo atliekamą masažą ir leidžia atsitraukti nuo kėdės
Nulinės gravitacijos funkcija
Nulinės erdvės funkcija
pozicijos / greičio / režimo nustatymas individualiems masažams
atmintis 3 pasirinktinėms programoms
automatinis sėdynės aptikimas

Techninis aprašymas:
masažinė kėdė su galimybe naudoti aromaterapiją, šviesos terapiją ir magnetinę pėdų terapiją
anatominis atlošo ir sėdynės išlenkimas, masažo plotas 95 cm
pėdų atramos padėties reguliavimas, įskaitant galimybę reguliuoti jos ilgį 20 cm diapazone
atlošo padėties reguliavimas
reguliuojamas galvos atlošas - pagalvę galima atlenkti arba atkabinti nuo kėdės ir taip reguliuoti pasipriešinimo intensyvumą
rankinės atramos reguliavimas
aukštos kokybės sintetinė oda suformuoja tvirtą ir neslystantį paviršių, atsparų trinčiai ir smūgiams
nugaros ir kojų šildymas (40-50 °C)
74 masažinės oro pagalvės
Valdikliai su LCD ekranu
"Bluetooth" 3D garsiakalbiai - atkurkite muziką tiesiai iš savo telefono
Ratukai lengvam transportavimui
šoninės LCD lemputės, kad sukeltų reikiamą nuotaiką
USB jungtis išmaniesiems įrenginiams įkrauti
galia: 260 W
išmatavimai po surinkimo: d 150 cm x Š 810 cm x H 141,5 cm
pakuotės matmenys: 3 dėžės , 1x 150 x 83 x 97 cm, 1x 73 x 36 x 131 cm, 1x 58 x 54 x 58 cm
didžiausias kėdės ilgis masažo metu: 220 cm
sėdynės plotis: 52 cm
medžiaga: sintetinė oda
apkrova: 150 kg
svoris: 168 kg
Tai nėra medicinos prietaisas - jis neskirtas raumenų gydymui ir kitoms ligoms gydyti