The Hammock ENO SingleNest is perfect for adventures as well as for those who like to relax. All you have to do is find two trees, attach the hammock to them and you can sleep in the wild or relax by the water.
When sleeping in the wild, a hammock has many advantages over a tent:
It takes up minimum space – the hammock packs into an attached stuff sack which can also be used as a valuables pocket. It weighs only 454 grams and fits into even the smallest of packs.
You can set it up anywhere – all you have to do is find two trees approx. 3-4 meters apart. You don't have to look for flat ground to set up your tent, clear away branches and other debris. Nothing will bother you, allowing you to sleep comfortably.
Set up in a matter of seconds – if it starts raining, you won't have to spend an eternity setting up your tent, during which all your things get wet. Just buy a rain tarp and stay dry while setting up your hammock.
Thanks to the high-quality, strong nylon, strong seams and aluminum carabiners, the Hammock ENO SingleNest will support up to 180 kg. The material is also pleasant to touch, breathable and fast drying. Its size makes this hammock suitable for one person. It's perfect for multi-day hiking trips but you can also set it up in your garden or by the water. You will fall in love with his comfortable hammock.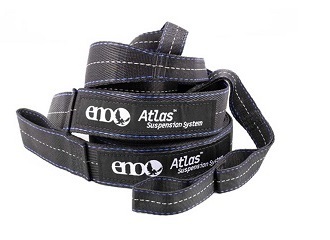 The Hammock Straps ENO Helios Atlas allow you to attach your hammock to the tree in a matter of seconds without tying a single knot. Loop straps around trees at least 1.5 meters from the ground, threading the multi-adjustment end through the end with the single loop. Attach carabiners to desired loops. Make sure that each carabiner clicks closed and visually check that the gates are closed before use.
Crafted from 1000D polyfilament webbing, the Hammock Straps ENO Atlas are ultralight and take up almost no space in your backpack. Reflective stitching improves nighttime visibility. The two straps come with a carry bag. With these straps, you will be ready to sleep in the wild or relax by the water in a matter of seconds.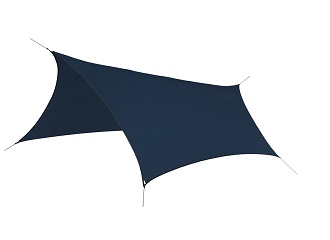 The Hammock Rain Tarp ENO ProFly will protect you and your things from the rain. You can use it both with and without a hammock. Its six guy points create a streamlined shape ideal for weathering sudden downpours, or building a water-front basecamp. The LineLoc tensioners allows for quick and easy set up while the PU-coated nylon and waterproof seams can withstand heavy rain. Despite its size, this rain tarp weighs only 640 grams and takes up almost no space in your backpack. Get the Hammock Rain Tarp ENO ProFly and never let the weather catch you by surprise again.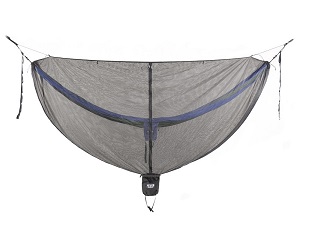 The Hammock Bug Net ENO Guardian is a practical hammock accessory that will protect you from both flying and crawling insects. Thanks to its streamlined shape, it provides 360° insect protection. This bug net is ultralight and easy to store as it takes up minimum space. Easy to set up (no knots required), the Hammock Bug Net ENO Guardian features integrated ridgeline for sleeve-like access and J-shaped zipper for fast access.
Technical description (hammock):
Comfortable 1-person hammock
Strong, breathable and fast-drying fabric
Practical stuff sack that can also be used as valuables pocket
Easy set up; three-friendly strap design
Durable aluminum carabiners
Triple-stitched seams
Perfect for hiking as well as garden
Material: 70D Taffeta Nylon
Weight limit: 180 kg
Dimensions: 280 x 140 cm
Collapsed dimensions: 8.9 x 14 cm
Weight: 454 g
Suspension straps are not included and must be bought separately
Note: When producing hammocks, ENO attempts to reduce potential waste by using every bit of fabric available. This means that the color combination of your hammock may be swapped from what is pictured
Technical description (straps):
Hammock straps
No-knots-needed set up
30 combined attachment points for length adjustment
Extremely strong and durable material
Reflective stitching for better nighttime visibility
Carry bag
Material: 1000D Polyfilament
Length: 280 cm
Width: 2 cm (4 cm at tree perimeter)
Packed dimensions: 8.9 x 12.7 cm
Weight: 255 g
Weight limit: 180 kg
Two straps in package
Technical description (rain tarp):
Waterproof tarp
Provides protection from both rain and sun
Can be used both with and without hammock
Quick and easy set up
LineLoc tensioners
6-point guy system
Comes with stuff sack
Material: PU-coated 210D Taffeta Ripstop Nylon
Dimensions: 320 x 190 cm
Packed dimensions: 23 x 11.4 cm
Weight: 640 g
Technical description (bug net):
Hammock bug net
Complete protection from both flying and crawling insects 
Easy to set up (no knots required)
J-shaped zipper for fast access
Lightweight and easy to store
Material: SkyWeave Lite Mesh, 40D Ripstop Nylon
Dimensions: 280 x 130 cm
Packed dimensions: 11 x 14 cm
Weight: 425 g