Naudojimui namuose skirtas Recumbent inSPORTLine inCondi R60i tvirtos konstrukcijos treniruoklis su stabilia nugaros atrama tinka naudotojams su judėjimo negalia, turintiems antsvorio ir (arba) senjorams, norintiems palaikyti gerą fizinę formą. Pagrindinės šio treniruoklio ypatybės - patogi sėdynė ir lengvas įlipimas ir išlipimas. Dėl 9 kg smagračio treniruotės bus kuo veiksmingesnės. Galite rinktis iš 32 elektroniniu būdu valdomų pasipriešinimo režimų. Sudėtingas LCD ekranas leidžia sekti visą svarbią informaciją, pavyzdžiui, laiką, greitį, atstumą, širdies ritmą, sudegintas kalorijas ir kt. Be to, Recumbent inSPORTLine inCondi R60i taip pat turi širdies ritmo jutiklius, įmontuotus rankenose, kurie leis jums sekti savo širdies ritmą ir atitinkamai koreguoti pratimus. Dėl transportavimo ratukų šį treniruoklį lengva perkelti. BeltDrive sistema užtikrina tylų veikimą, todėl galėsite visiškai mėgautis treniruotėmis. Dėl visų išvardytų dalykų Recumbent inSPORTLine inCondi R60i treniruoklis puikiai tiks jūsų namų sporto salei.
Be to, Recumbent inSPORTline inCondi R60i galima sujungti su planšetiniais kompiuteriais ir išmaniaisiais telefonais su Apple iOS 9.3+ / Android 5.0+ per Bluetooth ir iC+ Training programėle. Programėlė leidžia važinėti Alpėse, garsiausiuose pasaulio miestuose ir kitose įdomiose vietose. Dėka "Google" žemėlapių / "Street View" galite sekti savo maršrutą LCD ekrane. Galiausiai programėlė leidžia įjungti / išjungti treniruoklį ir valdyti jį išmaniuoju telefonu / planšetiniu kompiuteriu.
Pagrindinės funkcijos:
Stabilus rėmas
Diržinės pavaros sistema
3 dalių alkūnės su mašininiu būdu įkapsuliuotais guoliais
Ergonomiška ir reguliuojama sėdynė
Apšviečiamas LCD ekranas
.
galimybė prisijungti prie papildomų programų
"iC+" mokymo programos programos programos ir galimybės: 
greita pradžia
manualūs tikslinio laiko, atstumo ar sudegintų kalorijų nustatymai
galimybė sukurti naudotojo profilį (nuotrauka, vardas, pavardė, svoris, lytis)
nustatykite realų maršrutą per "Google Maps" ir "Street View" bei pasirinkite mėgstamas trasas
intervaliniai pratimai
WATT programa
galimybė atlikti grupinius pratimus
išmanusis treniruočių tvarkaraštis
treniruočių istorija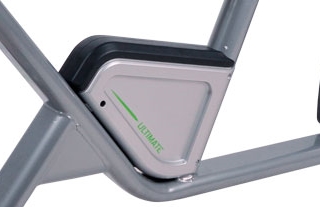 Didelis stabilumas ir leistinas svoris
Pagrindinis privalumas - tvirta konstrukcija, pagaminta iš aukštos kokybės medžiagų, užtikrinanti didelį stabilumą ir svorio ribą iki 150 kg. Dėl to šį treniruoklį galima naudoti mažesnėse sporto salėse, taip pat klubuose.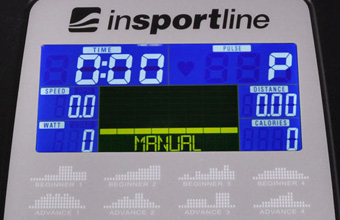 Įvairios programos
Elipsinis treniruoklis siūlo daugybę iš anksto nustatytų programų su skirtingais pasipriešinimo režimais. Jame taip pat yra specialių programų ir funkcijų, pavyzdžiui, FAT (matuoja jūsų kūno riebalų kiekį - KMI) arba HRC, kuri reguliuoja pasipriešinimą pagal optimalų širdies susitraukimų dažnį. Taip pat yra naudotojo režimai (12), skirti greitam nustatymui.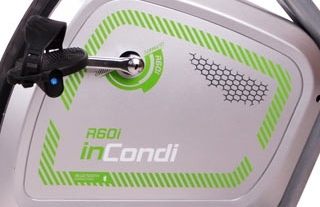 Tableto prijungimas
Pagrindinis privalumas yra "iC+ Training" programėlė. Ši programėlė leidžia koreguoti treniruočių programas, išsaugoti treniruočių duomenis ir dalytis jais socialiniuose tinkluose arba tikrinti esamus veiklos duomenis (širdies ritmą, greitį, atstumą ir kt.).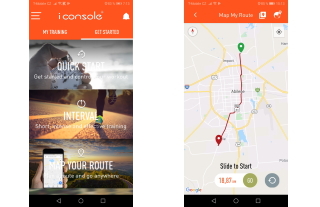 Mokykitės bet kurioje pasaulio vietoje
S iC + Training galite nustatyti bet kurį maršrutą pasaulyje tiesiai "Google" žemėlapiuose. Galite važinėti Paryžiaus gatvėmis, Majamio paplūdimiais ar Karkonų kalnais. Kaip žinote iš "Street View", treniruotės metu galite realiuoju laiku stebėti maršruto vaizdus. Be to, elipsės apkrova seka kelio eigą, todėl ji dar tikroviškesnė. Atraskite pasaulį patogiai įsitaisę namuose.