The Elliptical Trainer inSPORTLine inCondi ET600i is an electronically controlled elliptical with an 8kg flywheel in the rear. You may also appreciate its stable structure, 20cm pedal spacing and 40cm stride length. The BeltDrive system ensures smooth and quiet running.
Moreover, the Elliptical Trainer inSPORTLine inCondi ET600i can be connected with tablets and iPads via Bluetooth and the iC+ Training app. The app allows you to ride in the Alps, world's most famous cities and other interesting places. Thanks to Google Maps/Street View, you can follow your route on the tablet display.
The Elliptical Trainer inSPORTLine inCondi ET600i also features a sophisticated computer with an LCD display on which you can follow all the important information, such as time, speed, distance and calories burned. You may also appreciate the 12 user programs and HCR programs which adjust the resistance to your current heart rate, thus making the exercise as effective as possible. The transportation wheels are a must. All of the above, together with the 200kg weight limit, makes the Elliptical Trainer inSPORTLine inCondi ET600i a popular machine suitable for home, club and commercial use.
Key features:
stable elliptical construction
BeltDrive system for quiet and smooth running
three-piece cranks with enclosed industrial bearings SFK
possibility to connect with additional applications
backlit LCD display
WATT program: the machine increases or decreases the resistance so that the user performs the set performance (for example, increases the resistance when reducing the pedaling)
Computer displays: time, speed, distance, pulse, burned calories, RPM, scan
Cardio / HRC program: resistance adjustment to keep the heart rate in optimal zone
Programs and possibilities of iC+ Training app: 
quick start
manual settings of target time, distance or burned calories
possibility of creating user profile (photo, name, weight, gender)
set up a real route through Google Maps and Street View and choose your favorite tracks
interval exercises
WATT program
Possibility of group exercises
intelligent workout scheduler
training history
chest belt receiver
chest belt included
High stability and weight limit
The main advantage is its sturdy structure made of high quality materials, providing high stability and weight limit up to 200kg. As a result, the machine can be used in smaller gyms as well as clubs.
Variety of programs
The elliptical trainer offers a number of preset programs with different resistance modes. It also features special programs and functions such as FAT (measures your body fat – BMI) or HRC which adjusts resistance to the optimal heart rate. Then there are the user modes (12) for quick setting.
Tablet connection
The iC+ Training is the main advantage. This app allows you to adjust exercise programs, save exercise data and share them on social networks or to check your current performance data (heart rate, speed, distance, etc.).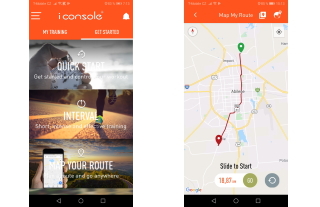 Train anywhere around the world
With iC + Training, you can set up any route in the world, right on Google Maps. You can ride the streets of Paris, beaches of Miami or mountains of the Giant Mountains. As you know from Street View, you can watch real-time imagery of your route during your workout. Moreover, the elliptical load follows the course of the road, which makes it even more realistic. Discover the world from the comfort of your home.