Elipsinis treniruoklis inSPORTLine inCondi ET600i yra elektroniniu būdu valdomas elipsinis treniruoklis su 8 kg smagračiu gale. Taip pat galite įvertinti jo stabilią konstrukciją, 20 cm atstumą tarp pedalų ir 40 cm žingsnio ilgį. Diržo pavarų sistema "BeltDrive" užtikrina sklandų ir tylų važiavimą.
Be to, Eliptinį treniruoklį inSPORTLine inCondi ET600i galima sujungti su planšetiniais kompiuteriais ir iPad per "Bluetooth" ir iC+ Training programėlę. Programėlė leidžia važinėti Alpėse, garsiausiuose pasaulio miestuose ir kitose įdomiose vietose. Naudodami "Google Maps/Street View" galite sekti savo maršrutą planšetės ekrane.
Elipsiniame treniruoklyje inSPORTLine inCondi ET600i taip pat yra pažangus kompiuteris su LCD ekranu, kuriame galite sekti visą svarbią informaciją, pavyzdžiui, laiką, greitį, atstumą ir sudegintas kalorijas. Taip pat galite įvertinti 12 naudotojo programų ir HCR programas, kurios pritaiko pasipriešinimą pagal jūsų esamą širdies ritmą, todėl pratimai tampa kuo efektyvesni. Transportavimo ratukai yra būtini. Visa tai, kas išvardyta, kartu su 200 kg svorio riba, paverčia Eliptinį treniruoklį inSPORTLine inCondi ET600i populiariu treniruokliu, tinkamu namams, klubams ir komerciniam naudojimui.
Pagrindinės savybės:
stabili elipsės konstrukcija
"BeltDrive" sistema, užtikrinanti tylų ir sklandų veikimą
trijų dalių alkūnės su uždarais pramoniniais SFK guoliais
galimybė prisijungti prie papildomų programų
iššviečiamas LCD ekranas
WATT programa: treniruoklis padidina arba sumažina pasipriešinimą, kad naudotojas atliktų nustatytą veiksmą (pavyzdžiui, sumažėjus pedalų mynimui padidina pasipriešinimą)
Kompiuteris rodo: laiką, greitį, atstumą, pulsą, sudegintas kalorijas, apsukas, nuskaitymą
Kardio / HRC programa:  pasipriešinimo reguliavimas, kad širdies ritmas būtų optimalioje zonoje.
"iC+ Training" programos programos programos ir galimybės: 
greita pradžia
manualūs tikslinio laiko, atstumo ar sudegintų kalorijų nustatymai
galimybė sukurti naudotojo profilį (nuotrauka, vardas, pavardė, svoris, lytis)
nustatykite realų maršrutą per "Google Maps" ir "Street View" bei pasirinkite mėgstamas trasas
intervaliniai pratimai
WATT programa
galimybė atlikti grupinius pratimus
išmanusis treniruočių tvarkaraštis
treniruočių istorija
krūtinės diržo imtuvas
į komplektą įeina krūtinės diržas
Didelis stabilumas ir ribinis svoris
Pagrindinis privalumas - tvirta konstrukcija, pagaminta iš aukštos kokybės medžiagų, užtikrinanti didelį stabilumą ir svorio ribą iki 200 kg. Dėl to šį treniruoklį galima naudoti mažesnėse sporto salėse, taip pat klubuose.
Įvairios programos
Elipsinis treniruoklis siūlo daugybę iš anksto nustatytų programų su skirtingais pasipriešinimo režimais. Jame taip pat yra specialių programų ir funkcijų, pavyzdžiui, FAT (matuoja jūsų kūno riebalų kiekį - KMI) arba HRC, kuri reguliuoja pasipriešinimą pagal optimalų širdies susitraukimų dažnį. Taip pat yra naudotojo režimai (12), skirti greitam nustatymui.
Tableto prijungimas
Pagrindinis privalumas yra"iC+" mokymas. Ši programėlė leidžia koreguoti pratimų programas, išsaugoti pratimų duomenis ir dalytis jais socialiniuose tinkluose arba tikrinti esamus veiklos duomenis (širdies ritmą, greitį, atstumą ir kt.).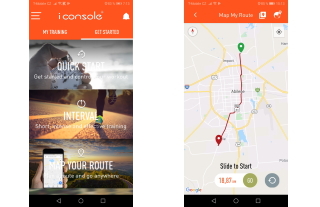 Mokykitės bet kurioje pasaulio vietoje
S iC + Training galite nustatyti bet kurį maršrutą pasaulyje tiesiai "Google" žemėlapiuose. Galite važinėti Paryžiaus gatvėmis, Majamio paplūdimiais ar Karkonų kalnais. Kaip žinote iš "Street View", treniruotės metu galite realiuoju laiku stebėti maršruto vaizdus. Be to, elipsės apkrova seka kelio eigą, todėl ji dar tikroviškesnė. Atraskite pasaulį patogiai įsitaisę namuose.