Type

E-bike

Maximum load

120 kg

Display

LCD

Weight

22.50 kg

Color

Grey

Brake system

V-brake

Wheel size

26"

Number of gears

24

Frame size

Optional

Frame material

Aluminium

Battery

Samsung 36V / 13Ah

Range

100

Motor power

250 W

Suspension fork

Yes

Rear brake

Tektro V-brake

Front Brake

Tektro V-brake

Rear tire

Kenda 26*1.75

Front tire

Kenda 26*1.75

Gear shifting

SHIMANO ACERA SL-M310 3X8SPD

Front derailleur

Shimano Tourney FD-TX51-3

Rear Derailleur

Shimano Acera RD-360-8R

Crank Set

CRUSSIS 42/32/22T

Handlebar grip

CRUSSIS Al, 620 mm

Year

2019

Mudguards

Yes

Type of e-bike

Urban
Elektrinis miesto dviratis Crussis e-City 5.6 – 2019
Tax included
Monthly payment from 26.95€
Description
Dviratis gali būti pristatytas nepilnai surinktas (nuimtas priekinis ratas, vairas, balnelis, pedalai). Pirkėjas yra atsakingas už tinkamą dviračio surinkimą, pavarų sureguliavimą ir paruošimą naudojimui. Dėl pilno dviračio surinkimo rekomenduojame kreiptis į mūsų dviračių serviso specialistus.
Būtina žinoti! Siekiant užtikrinti saugų dviračio eksploatavimą, rekomenduojama periodiškai atlikti profilaktinę patikrą bei laiku keisti besidėvinčias detales tokias kaip: stabdžių kaladėlės, trosai, guoliai ir pan. Šie darbai nėra įtraukti į dviračio kainą.

The Urban E-Bike Crussis e-City 5.6 – 2019 is a comfortable e-bike with a long distance range and a number of accessories. The low frame tube makes this bike suitable for in-town riding (when riding in the city, you have to get off your bike more often). Built into the rear rack, the 13Ah battery provides a distance range of 100km, allowing for a smooth and comfortable ride both in and outside of the city. Using the easy-to-read LCD display, you can choose from as many as 5 assistance modes. Moreover, the LCD display also allows you to track your current speed and distance covered. The powerful Bafang drive in the rear hub and the 24 speeds provide excellent riding characteristics. Its elegant design makes this bike suitable for both men and women. Since the battery is built into the rear rack, the Urban E-Bike Crussis e-City 5.6 – 2019 looks like a regular bike. Do you like to ride in town? Or do you prefer terrain riding? It does not matter. This bike can deal with anything!
Technical description:
| | |
| --- | --- |
| Frame | Alu 6061 (17", 19") |
| Motor | Bafang 250 W / max. 500 W*, in rear hub |
| Battery | Samsung Li-ion 36 V/13Ah – on rear rack |
| Charger | 2 Ah |
| Distance range | Up to 100 km (depending on assistance mode, rider's weight and trail profile) |
| Pedaling sensor | Revolution (magnetic) |
| Rear derailleur | Shimano Acera RD-360-8R |
| Frontderailleur | Shimano Tourney FD-TX-51-3 |
| Gear shifter | Shimano Acera SL-M310 |
| Number of speeds | 3 x 8 |
| Fork | ZOOM 26" LOCK OUT |
| Brakes | TEKTRO V-Brake |
| Display | LCD panel, 5 assistance modes (including current performance) |
| Tires | KENDA 26*1.75 (559-47), black with reflective stripe |
| Rims | CRUSSIS 26", dual, lined, 32D |
| Hubs | CRUSSIS, wreath bearing, 32D |
| Headset | Semi 11/8 |
| Stem | CRUSSIS Al, 90 mm, adjustable |
| Handlebars | CRUSSIS Al, 620 mm |
| Grips | CRUSSIS ergonomic with sleeve |
| Accessories | Lights, kickstand, fenders, rear rack |
| Weight limit | 120 kg |
| Weight | 22.5 kg (including battery) |
*Standard engine power is 250 watts, however, if necessary (for example, when riding uphill), for a short period of time a maximum power of 500 watts can be achieved.
Note: The expected max. travel distance depends on various factors, such as the amount of electric assistance, user weight, terrain, wind and the inflation pressure, pattern and temperature of the tires. All stated travel distances are valid under optimal conditions, meaning even terrain with no wind, temperature of 20°C, extremely narrow tires with no profile and user weight under 70 kg.
Our tips:
Don't know what bike type and size to choose? Find out more in our guide.
Don't know how to choose an e-bike? Find out more in another of our guides.
Want to test out your e-bike before buying it? If you live in the Czech Republic or Slovakia, it's not a problem. Just visit one of our stores.
E-bikes CRUSSIS are assembled directly in the Czech Republic, under professional supervision and in cooperation with cycling experts. This progressive Czech brand guarantees quality, modern design and maximum enjoyment from the ride.
Warning: Store the battery in a dry place and away from light, with room temperature between 10°C and 20°C. Before storing it for a longer period of time, charge the battery to full capacity. Repeat the process every month.
By following these instructions, the rated capacity of the battery will not fall below 70% of its total capacity within 12 months of purchase.
Warning: The factory setting for maximum speed is 25 km/h to meet the European standard for e-bikes. However, the setting can be manually changed to a higher speed limit. Bear in mind that in such a case the e-bike no longer meets the required standards and cannot be used on public roads!
CRUSSIS e-bike chart size
| Frame size | Height of user |
| --- | --- |
| 17″ | 155-175 cm |
| 18″ | 160-180 cm |
| 19″ | 165-185 cm |
| 20″ | 170-190 cm |
| 21″ | 175-195 cm |
About Crussis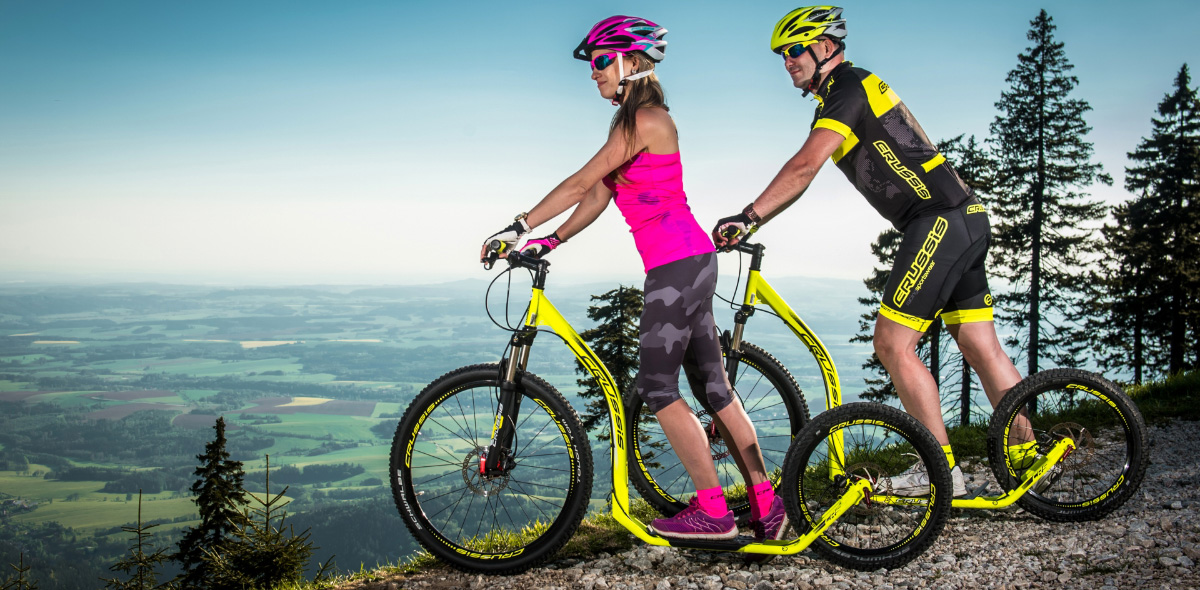 CRUSSIS is a Czech brand founded in 2012. In particular, CRUSSIS only sold electric bicycles, but in 2015 expanded production and launched the first models of electric scooters and expanded the number of models of electric bicycles on offer. 2016 CRUSSIS expanded its production even further and started selling accessories for cyclists: helmets, sunglasses, gloves, bags, bottles and more. CRUSSIS has also started selling functional sportswear: everything from socks, shorts and t-shirts to hats.
CRUSSIS does not stand still. As they improve and expand their products every year, they are improving and increasingly surprising their customers.
Important
CE ženklinimas yra prekės gamintojo deklaracija, kad produktas atitinka jam taikomus Europos Komisijos direktyvų reikalavimus (plačiau skaitykite čia).
Prekių nuotraukos bei video skirtos tik iliustraciniams tikslams. Originalių produktų parametrai, spalvos, užrašai, matmenys, dydžiai, funkcijos, ir/ar bet kurios kitos savybės dėl savo vizualinių ypatybių gali atrodyti kitaip negu realybėje, todėl prašome vadovautis prekių savybėmis, kurios nurodytos prekių aprašymuose. Vizualinė prekių medžiaga nenurodo prekių komplektacijos, todėl būtina vadovautis prekės aprašyme ir specifikacijose pateikta informacija.
Kilus klausimams, lauksime Jūsų skambučio telefonu +370 630 67777 arba žinutės el. paštu info@powersport.lt
Work hours:

I - V:      9.00 - 18.00
Adress: Ateities pl. 23 b, Kaunas
Phone: +370 602 20866
E-mail: kaunas@powersport.lt
Work hours:
I - V:      9.00  - 18.00
VI:       10.00  - 15.00
Adress: J. Baltrušaičio g. 1, Vilnius
Phone: +370 671 24005
E-mail: vilnius@powersport.lt