Šratai Atsarginiai antgaliai Šakių antgaliai Dimple 26mm 2BA - 30 vnt.
10+ d.d.
Liko: 5+ vnt.
€3.99
Darts antgaliai DIMPLE 26mm 2BA black 100vnt
10+ d.d.
Liko: 5+ vnt.
€4.59
Darts antgaliai metaliniai CONVERSION 2BA 3vnt
5-11 d.d.
Liko: 5+ vnt.
€4.99
Strėlyčių antgaliai Harrows, 1000 vnt.
10+ d.d.
Liko: 5+ vnt.
€14.57
Description
Antgalių rinkinys HARROWS DIMPLE. Rinkinį sudaro 300 vnt. antgalių. Antgalio ilgis- 26mm, spalva- juoda. Tipas: softip.
About Harrows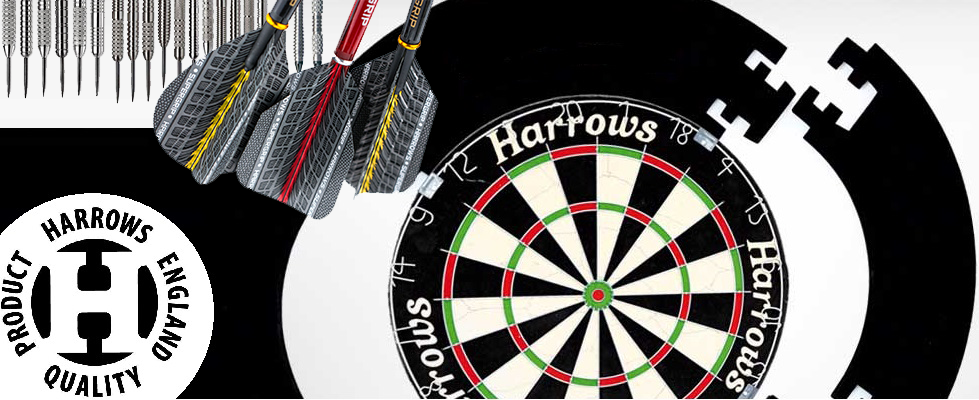 Harrows - worldwide leader and most known brand of darts. It was founded in year 1973, North London. Nowadays Harrows products are sold all over the world - more than 100 countries.  800 products are known for laser labeling flexography and screen printing, graphic design solutions and casted flights spikes.
Company have high qualification team that have long experience in making new technology products for darts: steel coated flight spikes were replaced by durable alloy, dartboards hold longer playing periods. Now more than 30 million players use Harrows for dart play.
Important
CE ženklinimas yra prekės gamintojo deklaracija, kad produktas atitinka jam taikomus Europos Komisijos direktyvų reikalavimus (plačiau skaitykite čia).
Prekių nuotraukos bei video skirtos tik iliustraciniams tikslams. Originalių produktų parametrai, spalvos, užrašai, matmenys, dydžiai, funkcijos, ir/ar bet kurios kitos savybės dėl savo vizualinių ypatybių gali atrodyti kitaip negu realybėje, todėl prašome vadovautis prekių savybėmis, kurios nurodytos prekių aprašymuose. Vizualinė prekių medžiaga nenurodo prekių komplektacijos, todėl būtina vadovautis prekės aprašyme ir specifikacijose pateikta informacija.
Kilus klausimams, lauksime Jūsų skambučio telefonu +370 630 67777 arba žinutės el. paštu info@powersport.lt
SPORTING GOODS STORE IN KAUNAS

Ateities pl. 23 b, Kaunas. Open I - V:  9.00 - 18.00 
SPORTING GOODS STORE IN KAUNAS
Open I - V:  9.00 - 18.00 
Ateities pl. 23 b, Kaunas

Product added to wishlist
Product added to compare.