Almond Butter with Pieces Healthy Choice, 250g
Tax included
Monthly payment from 2.72€
Stock Quantity:
Available in Supplier store (5+ pcs)
Delivery terms:
Prekę pristatysime Jums per: 3-6 d.d. DPD (3.99 €)

Prekę pristatysime Jums per: 3-6 d.d. DPD Pick up (2.99 €)

NEMOKAMAI atsiimkite monday, december 11 d., parduotuvėje, Ateities pl. 23 b, Kaunas (0.00 €)
Description
Migdolų riešutų užtepas "HEALTHY CHOICE" yra geriausios kokybės augaliniai baltymai. Tai puikaus skonio aukštos kokybės produktas, pagamintas iš natūralių žaliavų, nenaudojant jokių dirbtinių prieskonių, skonio stipriklių, riebalų, sintetinių priedų ir dažiklių.
Gaminamas iš aukščiausios rūšies migdolų riešutų, kuriuose yra gausu VITAMINŲ ir MINERALŲ, tokių kaip Natrio, Kalcio, Magnio, Kalio. Išgaunamas, kepant migdolų riešutus, vėliau riešutai sutrinami, kad išgautumėme nuostabų traškų skonį, taip išsaugant nepakitusią baltymų ir riebalų struktūrą.
Skaidulos užtikrina sklandžią žarnyno veiklą ir suteikia sotumo jausmą, kuris sumažins potraukį be reikalingiems užkandžiams ir saldumynams.
Pagrindiniai "HEALTHY CHOICE" – 100% Migdolų riešutų užtepo pranašumai:
Pagaminta iš 100% migdolų riešutų;
Sudėtyje nėra papildomai įdėto cukraus, druskos ar aliejų;
Nėra saldiklių, dažiklių ir skonio priedų;
Nėra sintetinių priedų ir konservantų;
Išsaugota aukšta biologinė vertė;
Gerina bendrą darbingumą;
Puikus nesočiųjų riebalų rūgščių kompleksas:

yra mono-nesočiųjų riebalų Omega-9;
yra poli-nesočiųjų riebalų Omega-3;

Yra Vitaminų ir Mineralų: Natrio, Kalcio, Magnio, Kalio;
Padeda išsaugoti raumenų masę;
Tinkamas sportininkams;
Tinkamas vaikams ir nėščioms moterims;
Tinkamas vegetarams ir veganams;
Pagamintas Lietuvoje;
About Healthy Choice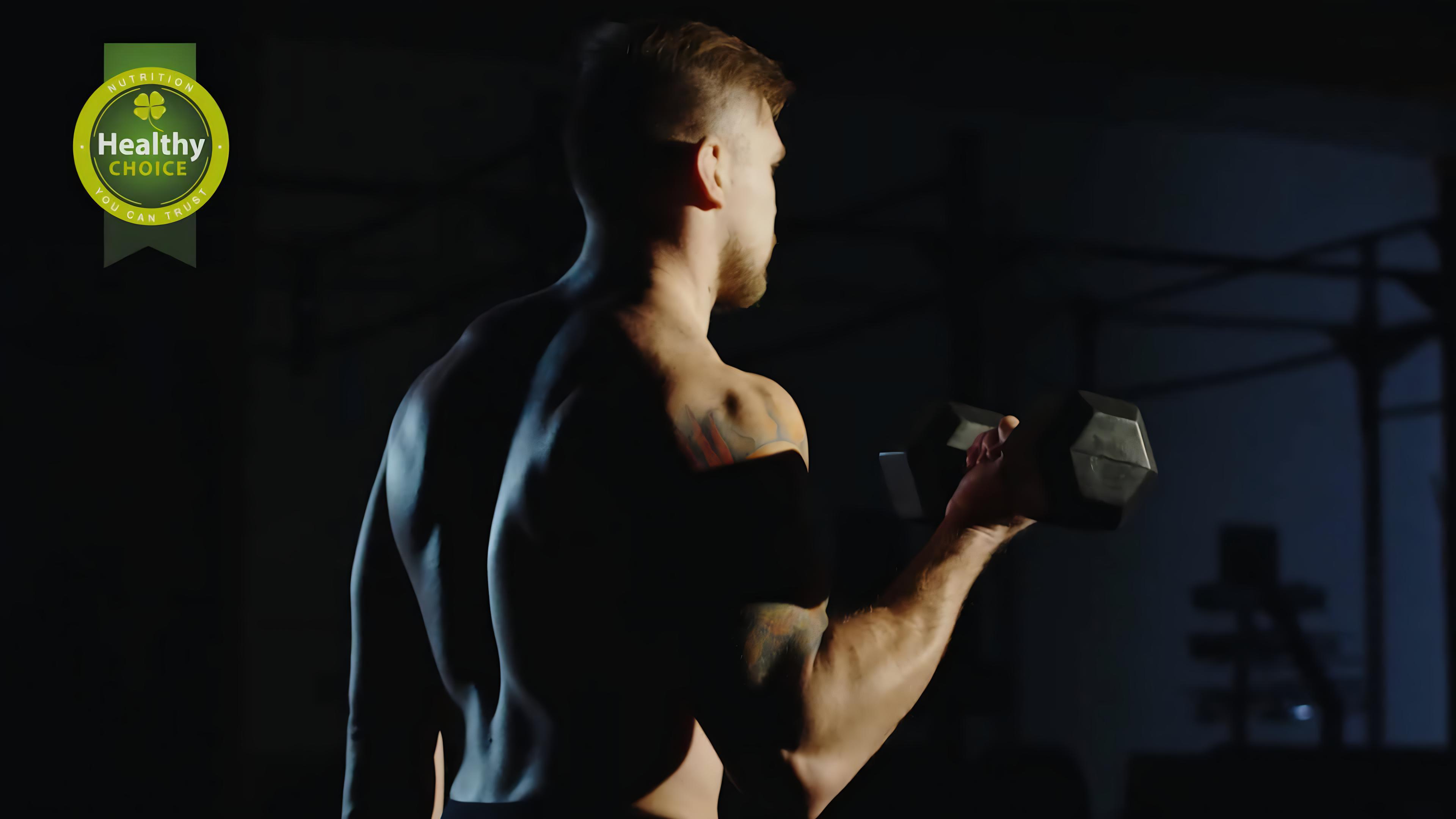 HEALTHY CHOICE 100% PURE and WATER-SOLUBLE WHEY PROTEIN are the first-ever line of Lithuanian-made protein products. Released for continuous production for the first time in Lithuania, the quality of HEALTHY CHOICE 100% PURE and WATER-SOLUBLE WHEY PROTEIN is second to none compared to equivalent products from foreign manufacturers.
Lithuania has always been known for producing high-quality and popular dairy products for large markets such as Germany, Italy, France, Switzerland and New Zealand. The emergence of this Lithuanian product was not simply the result of the untapped potential of company's national industries and also the fact that no such analogous product had been developed in the UK market or other European markets. On the other hand, a closer look at the composition of the products offered by foreign manufacturers and comprehensive scientific research revealed that most protein products offered today are not all natural and contain various artificial flavours, sweeteners, colourings and other additives.
Before the production, supply and distribution process for HEALTHY CHOICE 100% PURE and WATER-SOLUBLE WHEY PROTEIN was set into motion, the company took half a year to conduct an in-depth analysis of composition, packaging, and market demand for this product. The sample products of HEALTHY CHOICE was tried out of the most well-known athletes and dieticians and quickly recognised the benefits of natural protein. The company constantly consults with professional athletes, coaches, dietitians and doctors about the most beneficial properties of HEALTHY CHOICE protein.
Important
CE ženklinimas yra prekės gamintojo deklaracija, kad produktas atitinka jam taikomus Europos Komisijos direktyvų reikalavimus (plačiau skaitykite čia).
Prekių nuotraukos bei video skirtos tik iliustraciniams tikslams. Originalių produktų parametrai, spalvos, užrašai, matmenys, dydžiai, funkcijos, ir/ar bet kurios kitos savybės dėl savo vizualinių ypatybių gali atrodyti kitaip negu realybėje, todėl prašome vadovautis prekių savybėmis, kurios nurodytos prekių aprašymuose. Vizualinė prekių medžiaga nenurodo prekių komplektacijos, todėl būtina vadovautis prekės aprašyme ir specifikacijose pateikta informacija.
Kilus klausimams, lauksime Jūsų skambučio telefonu +370 630 67777 arba žinutės el. paštu info@powersport.lt
SPORTING GOODS STORE IN KAUNAS

Ateities pl. 23 b, Kaunas. Open I - V:  9.00 - 18.00 
Working
I - V:  9.00 - 18.00
VI: 10.00 - 14.00
Ateities pl. 23 b, Kaunas